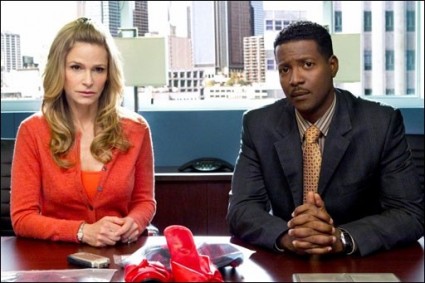 Is it just me or does it seem that all of the good television shows are coming to an end? Last night, TNT's brilliant crime procedural The Closer ended a highly successful seven year run. As I mentioned in one of my earlier columns, I've never really cared for procedural dramas, but there was something rather magnetic — something downright hypnotizing — about The Closer that simply caused me to watch time and time again.
Maybe it was the way that Emmy award winner Kyra Sedgwick managed to own practically every single scene that she was in. Perchance it was the way that her witty character, Deputy Chief Brenda Leigh Johnson, could get the truth out of any of the conniving villains that she crossed. Or maybe, just maybe, it was Corey Reynolds, who portrayed Brenda's right-hand man Detective David Gabriel, an individual with enough patience to tolerate his boss who was known to be a little eccentric at times. For those of us who watched the show religiously — including the high octane series finale – I think it was pretty evident that Brenda fancied him above all of her other officers. Who wouldn't? David was kind and hard working, resolute and determined — essentially everything one would want in a policeman. He was the Robin to her Batman and the Laverne to her Shirley … or Shirley to her Laverne. Um, bad example.
So, having said that, I wonder … how would The Closer have been without the character David Gabriel?
Now there's a stumper that even Brenda may find a bit perplexing! I think the show could have survived without David in the roster, however it definitely would have been missing something — its heart. It wasn't really until the second and third seasons that Brenda's rag-tag team of capable officers developed any real personalities. Up until then they were all kind of one-dimensional. However, creator James Duff gave David vital life in the very first episode, quickly establishing him as someone who wanted to give Brenda a chance when others didn't.
With the exception of Lieutenant Provenza and Detective Andy Flynn, no one else in Brenda's squad really had any real quirks. Provenza was too much of a grump to be Brenda's sidekick and Flynn would have probably hit on her all day. To that end, it's good that she had David around. The two of them made a pretty good team and the chemistry between Reynolds and Sedgwick was very good. Maybe that's because Reynolds has been nominated for a Tony award for his work on Broadway. Personally, I liked the fact that Brenda kept David Gabriel around … and I liked the fact that she took him with her after she left Los Angeles in the show's final episode.
However, that's one of the downfalls of the show's spin-off, Major Crimes — no Detective Gabriel. Hopefully he can make a cameo appearance or two. I don't know what Reynolds has on his schedule, but I'm sure he wouldn't mind guest starring from time to time. The characters from The Closer that did make it into the spin-off certainly have become a bit more fleshed out thanks to seven years on the mother ship. Still, a character as cool and kind as David wouldn't hurt.
It's no secret that The Closer practically reinvigorated cable television. Sedgwick proved to be incredible as a fiery detective, and as her sidekick, Reynolds was just as captivating. I couldn't imagine the show without him and I'm glad that Duff chose him for the role. He'll certainly go down in my book as one of my favorite fictional characters. When I think of Brenda, I think of David, and that says a lot.
Case closed.
Photo Credit: TNT