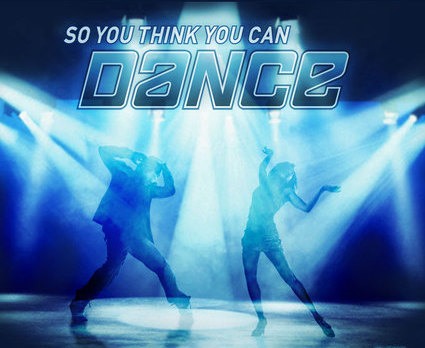 Well … this is going to be a little different.
Tonight, So You Think You Can Dance and its return from the Olympic Nowhere Land was all about choreographer Mia Michaels. The show was dedicated to nothing but her routines, "classic" pieces resurrected, previously performed by past contestants, played out again for our dining and dancing pleasure. (Literally.) Get it? Got it? Good.
(*goes to closet, drags out soapbox, steps atop it, clears throat*)
When I discovered the theme of this episode, I made myself a promise: I wasn't going to harken back and drum up "historical" SYTYCD routines to compare to what was being put on the stage. To what end would that result? It's a stupid methodology that serves no purpose. Guest judge Michael Nunn (one half of the BalletBoyz along with Billy Trevitt) was truth speakin' when he declared he wasn't privy to those previous routines. More power to him. That can only be a good thing and the reason is because that didn't give him something to compare. The performances of the contestants were on display for critique based on the strength (or otherwise) of each individual alone … nothing more. And that's the way they should have been critiqued. Period.
And I'm going to go further: Nigel and Mary shouldn't have been judging the routines at all. Matter of fact, I'm going to take another verbal step and state they shouldn't have been on the show at all this episode. Not based on this theme. Their critiques were tainted by the ghosts of past performances. By the ghost of Twitch. And the ghost of Melanie. And the ghost of Kent.
And that's no way to critique.
(*steps off soapbox, drags it back to the closet*)
And now? Some of the events as they unfolded:
Elena and Cyrus do a season 4 routine with "the door" was well done. It appears Cyrus just keeps growing and getting more confidence behind him in his performances.
Tiffany and George.  Hometown Glory / Adele. Not only the most aggressive routine of the night, it was the most physical as well. Wow … outstanding stuff. Everyone thought they over-played it, but I thought it was done rather well.
Will and Amelia. The season 5 so called "butt dance."  The critiques from Mary and Nigel were exactly why there shouldn't have been any criticism based on previous routines — their comments were 50% biased based on what had come before, 50% on what they saw during the routine.
Janelle and Dareian. "The Bed" routine. How in the world could Janelle possibly get any "face time" on that routine? She barely had any presence on the stage; more of it was spent behind the bed tossing rose petals in the air than in front of the camera performing.
Audrey and Matthew. This routine was a big fat *meh* for me. It may have been incredibly personal for Mia (and for Mary, for that matter), but I didn't feel anything from it.
Witney and Chehon. There was zero — and I mean ZERO — chemistry in their performance. This is the second offering in a row I had no connection with whatsoever and which I thought echoed no chemistry between the performers.
Lindsay and Cole. You saw the last two routines above … right? Compare them to this routine. Unfair, I know … you can't. Because the other two don't compare in the least.
So … who was in jeopardy? In a nutshell: George, Amelia, Janelle, Dareian, Matthew and Lindsay.
Lindsay is saved. George is saved. One of my favorites from the start, Amelia, couldn't garner enough votes to stay afloat. And I'm going to miss her on that stage next week.
Quotes:
"In real life, she would have kicked your ass outta there … !!!" — Nigel about Elena and Cyrus' performance
"I'm hoping I have enough junk in the trunk to pull this dance off." — Amelia in rehearsal for the "butt dance"
Photo Credit: FOX