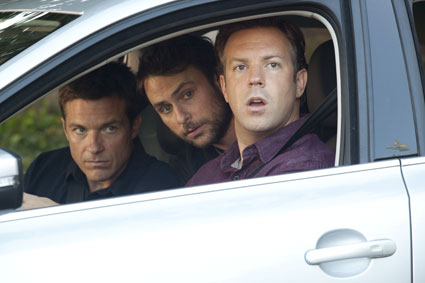 Nick, Kurt and Dale have three Horrible Bosses. Nick's boss is a power-hungry control freak who has lead Nick into believing he's up for a promotion … one that his boss takes for himself. Kurt works for a terrific guy who tells Kurt that he'll be running the business one day … who then dies suddenly and Kurt has to deal with the money-hungry, cokehead son. Dale works for a sex-crazed dentist who make very inappropriate advances on Dale, then threatens to tell his fiancée that he slept with her unless he sleeps with her. Their lives can't get any worse, so out of desperation a plan is hatched to kill the bosses.
This is a very promising set-up in the latest of a new breed of raunchy, R-rated comedies that have sprung up in the wake of the gigantic success of the original The Hangover. First out of the gate this summer was Bridesmaids, followed by The Hangover Part II and now this — which falls somewhere in between those two films on the laugh meter. I loved Bridesmaids and loathed The Hangover Part II. I really, really wanted to like Horrible Bosses, and I did chuckle a few times but I didn't find the laughs as hearty as those in Bridesmaids.
I can't fault any of the performances of the all-star cast.  Jason Bateman, Jason Sudeikis, Charlie Day, Kevin Spacey, Jennifer Aniston and Colin Farrell are all terrific. We already know Spacey can play the intimidating boss, but it was great to see Farrell going the Tom Cruise in Tropic Thunder route by adopting a horrific wardrobe and comb-over. It was also fun to see Aniston cut loose by being so sexually overt (and she looked stunning). Seth Gordon did a great job directing as well, but I just have to say that the script itself didn't grab me.
Yes, there are some funny moments, but like with The Hangover movies, a lot of the humor felt forced and outrageous simply to be outrageous and not for any logical reason. Bridesmaids certainly had its fair share of outrageousness, but it carried that off with the charm of its lead character.  There really is no one charming in Horrible Bosses, and that was the same complaint I had about The Hangover and its sequel — I don't think I'd really want to spend any time with Nick, Kurt or Dale (and I'm starting to worry about Sudeikis getting typecast in these horndog/lout roles). Besides not really connecting with the main guys, the story also has a few plot holes that you could drive a truck through that I don't want to spoil, but one involves a pivotal moment in the film that probably could have brought the whole thing to an end 45-minutes sooner had the characters acted logically.
I know, I know … sometimes you can't be too literal-minded with a movie like this but there are some things that you just can't overlook (at least I can't). The question is, do I recommend spending your hard-earned cash on this movie?  Depends. If you're prepared to just sit down and turn your brain off for 90 minutes (it is thankfully short, but it actually felt longer) then it might be worth the trip … at least for a matinee. However, if you require logic even with your outrageous comedies, but really like this amazing cast, I would have to say wait for the video. Horrible Bosses isn't horrible, it just wasn't as hilarious as I'd hoped it would be.
Photo Credit: New Line Cinema