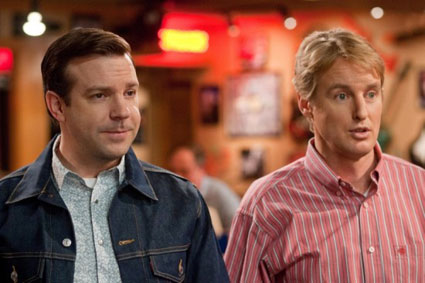 The latest comedy from the Farrelly Brothers hits home video Tuesday, June 14 … and this is a movie I didn't even know was from the Farrellys! Hall Pass, starring Owen Wilson and Jason Sudeikis, is the story of two married men who have settled into marriage so much that their wives feel neglected so they give their husbands a one week "hall pass" from the marriages to get out whatever it is that's still in their systems.
So the guys have their wives' permission to be "single" for a week to do everything a single guy would do? Really? I'm a guy and it's hard to wrap my head around the idea that any woman would allow their husband to go out and pick up women for sex, but maybe that's just me. If you can get past the absurdity of that idea, the Farrellys actually take great pleasure in showing us what doofuses men really are when it comes to picking up women (and how lucky they are to have found the women willing to marry and put up with them). Rick (Wilson) and Fred (Sudeikis) and their friends actually think Appleby's is the best place in town to pick up women! When they move on to an actual bar, Fred has a series of pickup lines that should have people alerting the police to a possible sex offender in the area. The lines are cringe-worthy but, I hate to admit, sometimes pretty funny. The Farrellys also turn the tables by showing how easily the wives can pick up men, even when they aren't trying. We may think it's a man's world, but the Farrellys show us that women truly are in charge.
From what I knew of the movie before seeing it, I thought this was just going to be a misogynistic male fantasy but I'm happy to say that it isn't totally. Yes, it is part male fantasy with the whole "hall pass" idea, but with showing how the women really know things about their husbands that the guys think they're so sly about, you certainly can't call the film misogynistic. I'm not sure if I can buy the "let's forget the past week" ending though … but it is a male fantasy after all. The film itself can't hold a candle to the Farrelly's There's Something About Mary, but it's at least funnier than the just plain disturbing Me, Myself and Irene. It would be very interesting to hear some feedback from married couples who have seen this film.
The DVD/Blu-ray combo package also includes a Digital Copy that you can take with you anywhere. The Blu-ray presentation is sharp and colorful and offers an extended cut of the movie (having not seen the theatrical version, I have no idea what or how much was added). The movie itself looks so great because there's not a whole lot of space taken up by bonus features. There is one deleted scene featuring Richard Jenkins' creepy Coakley character, and a gag reel that lives up to Jenna Fischer's comment in the last clip, "This is the most boring blooper reel ever." Farrelly completists, if there is such a thing, will want to add this one to their collection but with the lack of any real bonus material (the BD-Live feature only has promotional material for other WB product) puts thie one solidly in the "rental only" category for the average consumer.
Photo Credit: Warner Bros. Pictures