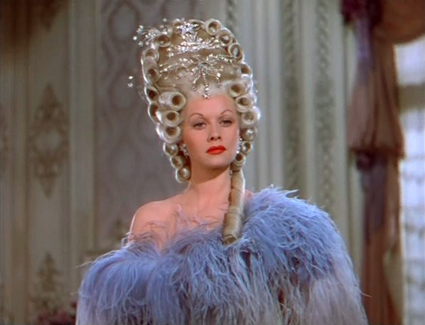 We all know Lucille Ball from her many TV shows and guest appearances on everything from The Carol Burnett Show to Body Language, but a lot of people who have watched I Love Lucy, The Lucy Show and Here's Lucy over the past 60 years don't realize that Lucy left her hometown of Jamestown, NY to try her hand on Broadway, and ended up being signed to be a Goldwyn Girl for MGM in Hollywood.
In Hollywood, Lucy appeared in mostly uncredited roles — everything from "Blonde" in Broadway Thru a Keyhole (her first screen appearance in 1933) to "Girl" in Winterset (1936). She finally got her "big" break in 1937's Stage Door as Judith, and got the chance to co-star in a major motion picture with Katherine Hepburn and Ginger Rogers.
Lucy's film career never took her to the heights as some of her other MGM co-stars, but she became known as a reliable actress who could handle roles from glamour girls to a detective's secretary. Notable appearances in the late 30s and early 40s include The Affairs of Annabel, Room Service (with the Marx Brothers), and Dance, Girl, Dance (with Maureen O'Hara). In 1940, she was given the role of Consuelo 'Connie' Casey in the film Too Many Girls … and a chapter in entertainment history was written as she met and fell in love with another actor in the film by the name of Desi Arnaz.
Through the 1940s Lucy continued to act in films, scoring high praise for her dramatic roles in The Big Street and The Dark Corner, as well as tackling more light-hearted MGM musical fare such as Du Barry Was a Lady and Best Foot Forward. While she focused on her career and marriage, her husband was touring the country with his orchestra and indulging in some extra-marital indiscretions. Lucy put her movie career on hold and focused on a TV series that she insisted co-star her husband (as a way to keep him off the road) over the objections of CBS. But what did the network suits know?
Of course, I Love Lucy was born in 1951 but few people, until recently, knew there was an I Love Lucy Movie. The movie was actually three unrelated episodes of the TV series linked together with new material (that the show was originally shot on film made this process possible). However, just before the movie was to be released, MGM had produced The Long, Long Trailer starring Lucy and Desi (as very thinly veiled versions of their Lucy and Ricky characters) and requested that the I Love Lucy Movie not be released to compete with the original film, which would also give audiences their first look at the stars on the big screen (togther) in color. The movie was shelved and apparently forgotten, but is now available on DVD.
Lucy and Desi made one more movie together, Forever, Darling, which had its premiere in Jamestown, NY. Lucy became the Queen of Comedy on television and continued with two more successful sitcoms without Desi (and one last not-so-successful show in the 80s), but she still made the occasional big screen appearance in films such as the original Yours, Mine and Ours (with Henry Fonda), The Facts of Life and Critic's Choice (both with friend Bob Hope), and her final silver screen appearance in the musical Mame (replacing Broadway star Angela Lansbury). Not all of her movies were well-received, but nothing ever diminised the love audiences had for her.
August 6, 2011 would have been Lucy's 100th birthday, and through the miracles of television, film, DVD and whatever new technology comes along, we will always be able to enjoy and appreciate the legacy she left us. Happy birthday, Lucy.
For the television side of Lucy's career, visit our CliqueClack TV page.
Photo Credit: MGM