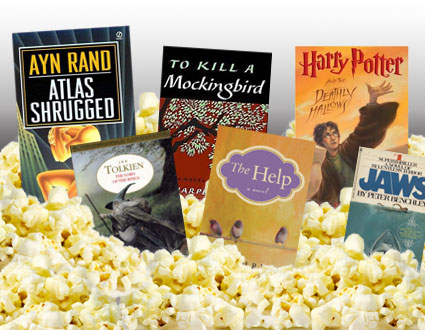 Have you ever read a real page-turner of a book, or one that was full of deep thinking, or one that just transported you to a different place and time and thought, "Man, I hope they make a movie out of this"? And then Hollywood does make a movie (or TV movie in some cases) from that favorite book and totally screws it up. You're pissed because someone took everything that made the book great and totally dumbed it down for mass consumption at the box office. But then something odd occurs when you hear people raving about how good the movie is … from people who never read the book. You think they're crazy and they think you're just too much of a literary snob. This could all go the other way, too, when you love a movie adaptation of a book that the rest of the world hates or doesn't understand because they never read the book.
This summer, one of the surprise hits in a season of CGI robots, superheroes and boy wizards was the film adaptation of The Help. With great advance buzz from devotees of the book and a stellar cast, the film was on many a must-see list. The reaction afterwards was curious — people who had never read the book loved the heck out of the movie, while people who knew the book cover-to-cover were disappointed with the oversimplified plot and dramatic shift in tone, making the story more about how the white characters came to the rescue of the black characters. No one disputed the lead actresses talents, but many were left insulted by what the movie had done to the book's story.
This week saw the DVD and Blu-ray release of the film adaptation of Ayn Rand's novel, Atlas Shrugged. The film got a very limited theatrical run before being relegated to home video, and the general consensus among the critics was that the movie was just awful (it has a 12% rating on Rotten Tomatoes … and an 80% approval rating from non-critics). Many of these critics, like Roger Ebert, have read the book and found the movie to be a jumbled and confusing mess. I haven't read the book and I found the film to be dull and boring with not much plot exposition to give a casual viewer any clue as to what was going on. The film was produced on the cheap in about five weeks because the producer had to get something on film or lose the rights, and I felt that had a major impact on a film that should have been much more grand in scale, and much deeper in plot and character development. The reactions to my review have been interesting, with a few people deeming me not qualified to review the movie because I hadn't read the book. Which brings up the question: Do you have to read a book to enjoy the movie it's based on? I've never read a page of the Lord of the Rings books, but the movies were magnificent because they had the time and money to pour everything that made the books classic into the movie (and purists still cringe at some of the narrative changes, but it's impossible to adapt a book to film without making changes … what works on the printed page does not always flow the same way in a visual medium). To Kill a Mockingbird is another favorite movie based on a book I've not read.  I saw Jaws and read the book afterwards and enjoyed both. On the other hand, I've read books that I loved and hated the way the movies turned out (or in the case of Wicked, the way the stage version turned out, altered from a dark, twisted fairytale to something shiny and bright for the masses).
Adapting a book to film is a tricky thing indeed. It's my opinion that it is the scriptwriter's job to adapt a book for film in a way that all audiences can appreciate it. Hollywood wants to make money, and they're not going to do that if their film adaptation caters only to the book reading crowd. Reading a book should not be a prerequisite to see the movie it's based on. Seeing the movie should make the viewer want to pick up the book and get more in depth with the story. Of course, a bad movie can also make people want to read a book just to see how badly they screwed it up. Just for curiosity's sake, I downloaded a digital sample of Atlas Shrugged and I got more information from one sentence of the book's introduction than I got from the entire movie. That made me think, is it my fault for not reading the book and therefore not understanding the movie, or is it the filmmaker's fault that I couldn't understand the movie?  I asked my collegues here at CliqueClack what they thought.
Keith: The different mediums should stand on their own and not require further reading/viewing to understand. If that's required, then it failed.
An: Personally, I believe the filmed adaptation should stand on its own. But, if you're a writer/producer/director adapting a literary work because you enjoy it, then don't strip out every level of uniqueness.  My biggest problem with Hollywood is recently they've gone to extremes in adaptation. Their fear of cutting off non-readers, typically means they whitewash everything, forgetting they adapted the book because of its built-in popularity.
I don't expect a word-for-word, granular adaptation but I do expect a well-written film. However, Hellboy and League of Extraordinary Gentlemen took two quirky comics and made them into crappy action movies.  However, He's Just Not That Into You and Adaptation went in a totally different direction of the source material to pleasurable ends.
Chuck: I enjoyed League of Extraordinary Gentlemen and Adaptation … and I've not read either film's source material.
Jeremy: This is why it is often useful to have multiple POV reviews for complicated adaptations, like several places did with Game of Thrones. It's certainly not fair to say you weren't qualified to review it, but it is true that someone who has read could offer a different perspective — like how well they thought it was adapted, regardless of whether they even liked the original material.
Michael: Let's look at Lord Of The Rings for a moment … well … as far as I can at any rate:
I read the books and loved them. Inconceivably, I've only seen the first film. The long and short of it: Tons missing from that first episode if you compare it with the novel. But … does the film stand on its own? Damned straight it does. That didn't stop the "diehards" from raising a ruckus, but that ended up fading off with the overall consensus killing the controversy in the grand scheme of things.
Now, take The Walking Dead. I specifically stayed away from the books wanting to see what season one did with it. Later, I went back and read them … and loved them, too, on their own. Did the television series stand on its own? In my book, absolutely. You could chew on comparisons, omissions, revisions, ad nauseum 'til the cows come home, but the end result is that it worked.
If, by your example, a filmmaker completely kibbitzes a property, that's going to be on his or her head. But remember: It's their own vision. No one goes into something like that wanting to make a mockery of it. At least that's what I would like to think in my own little fantasy world. And I think this holds true for the most part.
But … should a work stand on its own? I'm with Keith. Yes … it should. Unless there's some caveat detailing a viewer should be familiar with the source material (and — for the life of me — I can't imagine that happening), the work should stand on its own based on what the filmmaker's vision is for it.
Dan: The adaptation should definitely be able to stand alone, otherwise what's the point? I'm seeing Andrea Arnold's new version of Wuthering Heights on Friday and I haven't read it, but if it doesn't work without my having read it then the problem lies with the film, not with me.
An: That's true, but what if it also hinges on people doing a poor adaptation? I haven't seen a decent post-black and white version of Jane Eyre or of Mansfield Park. The directors/writers seem so desperate to put their 'stamp' on it, that they drop the story or create some convoluted mess.
Katie: I liked the Jane Eyre from this past spring.
Keith: Well, likewise, a person reviewing a movie adapted from a book shouldn't say "this book sucks," unless they're talking the overall story on personal knowledge/opinion of both.
You've seen what we think, so tell us how you feel. Should reading the source material be mandatory before seeing the movie adaptation, or should the movie be able to stand on its own? Sound off in the comments section below.
Photo Credit: Chuck Duncan