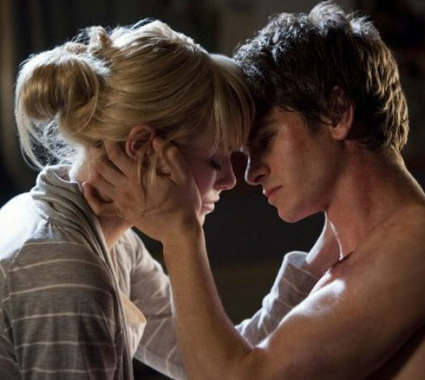 For the last decade, Sony has produced a three-picture Spider-Man franchise that made the studio hundreds of millions of dollars. As we enter the 2010's, executives decided to reboot the franchise, setting aside stars Tobey Maguire and Kirsten Dunst as well as director Sam Raimi in an attempt to take the franchise – and the superhero – younger. The Amazing Spider-Man kicks off with the origin story – with several tweaks – that audiences are familiar with; and thus might be a little bored with.
Chances are you know the broad strokes of the story. Andrew Garfield plays Peter Parker, doing a much better job of capturing the essence of the character than Maguire ever did. Emma Stone replaces Dunst as the lead's love interest, as the story shifts the character back to Gwen Stacy – more accurate to the storylines of the comics. Martin Sheen and Sally Field do an admirable job taking over as Uncle Ben and Aunt May. Rhys Ifans is Curt Connors/The Lizard, an antagonist I couldn't get behind at all.
My biggest problem with The Amazing Spider-Man was that I enjoyed nearly everything but the story. There's no way that anyone can spin this flick that makes me believe it was necessary to do another origin story. I spent the entire first half of the movie listening to kids asking their mommies where Spider-Man was. I found it difficult to argue with them – though I did wish said mommies would have kept their kids quiet. There were differences between this and Raimi's version to be sure, but not enough to feel like I was watching something new. I know it would have been weird, but I would have much rather the film crafted a story not unlike Superman Returns, jumping back into the story at an undefined point.
My "enjoyed nearly everything else" referred to The Lizard. There was little about the character I liked. The CGI – especially of the fully formed Lizard – was rough. The new backstory between Connors and Peter's father felt forced and manufactured. I never really believed his final turn to evil … nothing about the character worked for me.
I hate that those two things impacted the film so much for me, because Garfield was nearly perfect as our friendly neighborhood webslinger. I also found Stone completely adorable as Gwen Stacy. The two leads had better chemistry than Maguire and Dunst had in their films respectively. Dennis Leary was also very good as Gwen's police captain father, who had a wonderful dynamic with both Peter Parker and Spider-Man.
At the end of the day, I'm pleased with what The Amazing Spider-Man created; a new universe to expand upon, and the ability to bring in familiar characters – Norman Osborn's name was mentioned several times – in future installments. I'm also looking forward to where Garfield and Stone are going to take their characters and their relationship. I just wish I didn't have to sit through this story to see what happens next.
*Editor's note: As with nearly all Marvel superhero movies, everyone wants to know if there is something to sit through the credits for. The answer is yes, although you don't have to wait all the way to the end.
Photo Credit: Sony