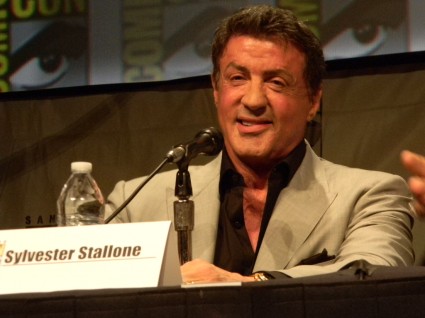 Interestingly — and very much out of the ordinary — it was a breeze getting into the daunting Hall H at Comic-Con late Thursday afternoon for The Expendables 2 panel.
I'd seen the first go round at the 2010 edition of The Con with most of the stars in attendance along with the film itself later on which was a terrific, throwaway popcorn action shoot'em up. But this time, armed as a contingent of the press, it was time to get up close and personal. And that's exactly what I did.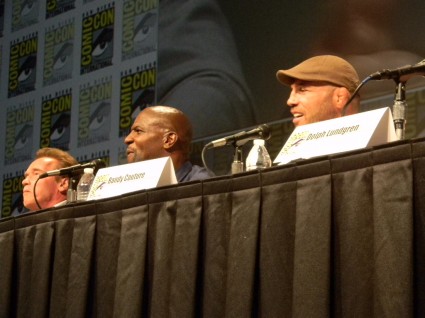 Part of the fun of the panel was seeing the retrospectives of the careers of both Sylvester Stallone and Arnold Schwarzenegger. With Sly coming out first, he did a little song and dance about being glad to be back, a brief synopsis on what The Expendables 2 was all about, then clips of everything from the Rocky flicks right on through Stop! Or My Mom Will Shoot and into the first The Expendables effort was shown. The audience loved it.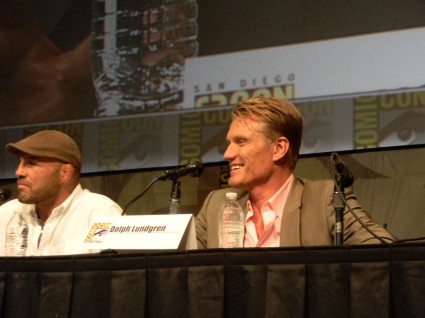 Before Arnold was introduced, many of the other stars of the film graced the stage, took their seats and said a few words, Terry Crews, Randy Couture and Dolph Lundgren among them. (Disappointing to me is the fact Mickey Rourke isn't in the sequel.)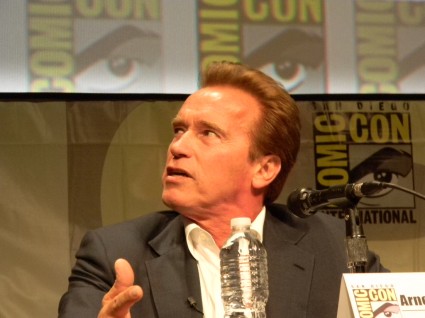 Then it was Arnold's turn, stepping out to thunderous applause. Of course, he couldn't have appeared at the 2010 panel as he was governing California at the time (and that would have caused a stir in more ways than three had he shown up), but all was made right with the world when he stepped out on stage, the crowd roaring its approval. Conan The Barbarian himself, in the flesh. His film clips were just as impressive as Sly's: The unintentionally comical Hercules in New York, Conan the Barbarian, The Terminator trio, True Lies and more, more, more, more, more. No doubt about it, the films these two have amassed make a formidable list of testosterone-oozing fare.
Of course, the shocking news of Stallone's son Sage's death the following day made being at the panel all the more reflective. (There were two too many deaths surrounding this year's Con.)
Below is a snippet of back and forth with Stallone and Schwarzenegger which includes their first meeting.
Overall it was grand fun seeing all the muscle on stage and hearing about the interaction between the actors in the upcoming film. With a $103 million domestic gross (and a $274 world wide), let's see what the sequel does for these iconic muscleheads.
Photo Credit: Michael Noble