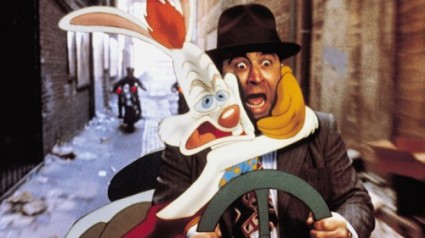 With the news that famed but slightly obscure character actor Bob Hoskins retired due to his being diagnosed with Parkinson's, I think it only fitting to take a look back. Bob Hoskins was born in Suffolk, England, but had his first movie at age 30 in 1972. He brought his now classic Cockney accent (not his original one) to a series of a British crime movies before appearing in the bizarre sci-fi classic Brazil.
But it was the unique cartoon/real world fusion film noir homage/parody Who Framed Roger Rabbit? that catapulted Hoskins into awesomeness. But he would never quite reach that level of fame again, even after working with Steven Spielberg in Hook as the sneaky pirate assistant Smee (funniest part of the movie). And then there was Super Mario Bros, the disastrous video game adaptation that Hoskins has derided to this day. Yes, it was stupid, over budget, over directed, plagued with production problems, and Hoskins apparently drank himself into a stupor to get through it. But it has a campy appeal, and Hoskins is a light in the dark.
Since then, he's mostly been in smaller movies or smaller roles, from the hard and dangerous (with Jet Li in Unleashed) to his great, subtle performance in Paris, je t'aime. Most recently, he could be seen as the mystical dwarven leader Muir in the pretty but empty Snow White and the Huntsman. It is truly unfortunate that illness prevented this great acting talent from continuing, and a shame that he never received the recognition his talent deserved. But we still have his movies and television to remember his gruff charisma.
Below is a list of Hoskins' best known performances.  Take the poll and choose your two favorite roles.
Photo Credit: Touchstone Pictures