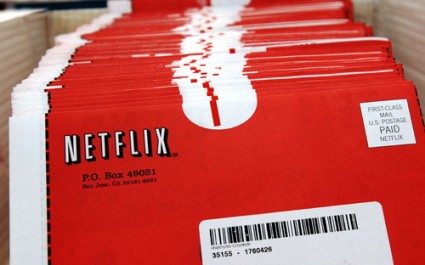 I sadly have little time to hit the theaters. Living with someone who doesn't care to go to the movies at all doesn't help matters much. Honestly, I don't blame her much. Being at the theater means uncomfortable seating, little-to-no talking, and no pause or rewind. Oh, I get the draw of the huge screen and huge sound, believe me. I still love to go when it's something big, or someone I know wants to go with me. But being comfortable sorta trumps that in my book. Plus, us being kinda germaphobey … it's kinda gross there.
I've been an on-again/off-again customer of Netflix's for many years now. Frustrated with my local video rental shops, late fees and such, I jumped right on board when Netflix came around, and I loved it. Some time went by and I was watching fewer movies, and then the pricing went up. And then it went up again. I dropped Netflix, went to Blockbuster, hated it, then went back to Netflix again. Then the Blu-ray pricing kicked in, so I dropped them. Then streaming looked better and better, so I came back. And now … this.
Seriously, what the fuck?
I know a lot of people who use Netflix purely for the streaming aspect of the service, so this new pricing doesn't affect them much, if at all. Since I don't go to the theater, my only chance at playing at least a little catch-up with newer releases is to go to the DVD plans. I'd love to still take advantage of the streaming service, but both? … I can't stomach it.
It's true that, if you look at the alternatives, the price hike is still a decent deal. What bugs me most, though, is the frequency of these price hikes. For as long as Netflix has been around, should I really have had to consider dropping them or changing my plans every time? Shouldn't their service on either end be compelling enough to make me barely think twice about sticking with what I've got?
Another big issue for me is the online-only library. There's just not enough there. I'll be looking for something worth watching (that's not a TV show), and I'm hard-pressed to find something that makes me glad I have the service open to me. I don't watch on my iPad or my iPhone, so the mobile aspect means nothing to me. It was a nice-to-have feature when it was included in my unlimited DVD plan, but separately? Not so much.
In case you haven't guessed, I've now downgraded my account to the DVD-only, one-at-a-time, two-per-month plan. If I'm that hard-pressed to see more than two movies a month, I'll head to a Redbox. If I'm itching for something obscure, I could attempt Amazon's service, but I doubt it will come to that. Honestly, in a way, I should thank Netflix for this change; now I'm paying less per month than I was before, and spending less time in front of the 'tube to do other things. Hell, maybe I'll get out to a theater instead!
How are you feeling about the change Netflix has made? Pissed off and moving on? Changing plans? Or is everything just honkey-dorey as far as you're concerned?
Photo Credit: filmjunk.com