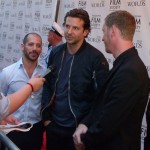 You could tell this felt like a special event for Philadelphians. There were more people in semi-formal wear, more women in heels, and, heck, even the press dressed up. Unsurprisingly, it was a bit of a madhouse once Bradley arrived. You can even hear the crowd roar during my interview with Jim. I actually started to feel sorry for Bradley Cooper. With what felt like 500+ people clambering to get video/audio of him or photos with him, I wondered how he handled it on a regular basis and at larger venues like the Oscars/The Golden Globes. There was even a lone man who insistently shouted obscene suggestions at Bradley like "Show us your tits." I couldn't tell if he was a friend, former acquaintance, or a dude who just liked harassing celebrities. But, I have to give it up to the local police who patiently handled the traffic and the fans, briefly allowing the swell of women to press against the red ropes to take photos before breaking it up for fire safety and traffic regulations.
It's fortunate that the red carpet events I cover are typically for films I believe in and would've paid to see. Although I typically hate fighting the crowd to grab the necessary video/audio; this event felt incredibly smooth. I didn't notice the wait period and had no qualms giving up my space once I achieved  my shots. Luckily, those surrounding me were hella cool and majorly down to earth. Maybe it was the Philadelphia charm. Maybe it was Bradley Cooper and the warm summer night. And, maybe it was the words surrounding us.
The Words, about a contemporary struggling American writer who discovers  and plagiarizes the manuscript of a 1940s-1950s writer he discovers in Paris, hits theatres September 7th.
Photo Credit: A. Nicholson
This Post Contains Multiple Pages:
1
2