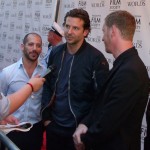 When asked about casting Bradley, Klugman and Sternthal stated they never doubted Bradley's skill as an actor, despite his comedic/action roles in The Hangover films and The A-Team. According to Klugman, he is "not capable of doing something untruthful" and, like The Words' main character, "Truth is at the core of Rory." He detailed Bradley's portrayal of Rory's "guilt" and "desperation," while Sternthal attested to Bradley's "instinctive" and "truthful" gift. To understand Rory's literary isolation, Cooper pulled from past (and even current) rejections in his own success, while admitting he wasn't as "masochistic" as Rory.
Just as the entire table came alive describing their Philadelphia memories, they equally came alive when describing The Words' amazing cast, especially Jeremy Irons and Zoe Saldana: "When you're acting with a great actor, it's not as if you're playing against them in a sport. They're on your team, so you want the best actors. I don't want to be playing against Jeremy Irons; I want to be playing with him." Having only two days and fifteen dialogue pages to shoot the initial scene between Cooper and Irons, Klugman and Sternthal admitted they had to direct them. "When you have actors like Bradley and Jeremy, you want to set them up, give them what you need and then get out of their way."
Having noticed popular English major themes in The Words such as the novelist writing himself and the novel as child, I wondered why the writers never followed through on those ideas, and asked Klugman and Sternthal about their novelistic influences for the film. I was gratified to learn that although they tapped into these themes, they didn't strive towards them, focusing more on the plot and the characters. Sternthal answered initially, stating: "I think for me there certainly was and not just novels, but films also. There's a long list of them. All of us are fascinated by storytelling and, the different ways that you can tell a story. So, whether you see something like Six Degrees of Separation which I was actually talking about that as a fascinating play. It's not just a novel. But, I think every narrative discipline is different in works that deal with how we tell stories and why we tell stories."
Klugman chimed in describing the movie's organic construction: "I think the structure of this movie and this kind of woven in and out happened so organically. We're all under the anxiety of influence of what we've read and what we've seen, but we didn't set out to do anything oddly clever or anything like that. The Old Man started telling the story and the next thing you know we were in Paris in the 40s and it all started to blend together and then the third story outside of it was kind of a way to look at the sum total of the Dennis Quaid stuff of choices and also add this whole layer of wow, this was just a great metaphor that this guy found to talk about choices."
As Klugman started to talk more to higher level theories, Sternthal ended stating, "I think what we were going for in doing something like that is to take it out of just being about plagiarism and make it something more elemental or primal about why we tell stories and the stories we tell ourselves and why we need them."
Bradley described the script as a live artifact, transforming from script to production to editing, where the father-son scenes transformed from cold and distant and black and white text to warm and loving in digital flesh. He referenced Zoe as transforming the script's crux from Rory's love of his manuscript to his love for his wife. Sternthal attested, detailing the process as evolution: "going from being on the nose to being something real and human and hopeful."
That practically summarizes the entire interview and the entire city of Philadelphia: real, human, and hopeful.
The Words will hit theaters September 7th.
For a truncated transcript of Bradley Cooper's answers, click to the next page. Thank you to Nathan Lerner for providing the transcript.
Photo Credit: CBS Films, An Nicholson