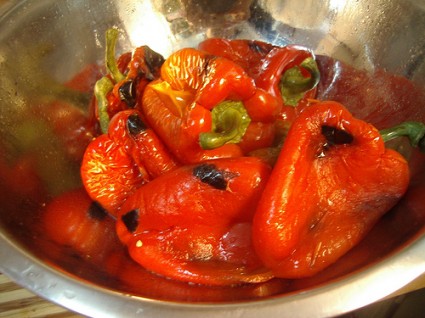 A pizza topping combination that's just unique enough to excite you.  One that's just traditional enough to make you feel all warm and fuzzy. Definitely one that'll make you salivate. Have you tried roasted garlic and peppers pizza?
Anything roasted is a big hit at our house — even broccoli! So imagine the smoky, tangy roasted pepper combined with the spicy, slightly sweet flavor of roasted garlic, all smothered in cheese, with onions, sun-dried tomatoes and fresh parsley.
Probably you won't find it at your local pizza joint, but it's easy enough to make.
Recipe Pizza has an easy-to-follow recipe for roasted garlic and peppers pizza that you might like to try. They just make it on a pre-made crust, but I'd suggest making your own dough, either from scratch or using your bread machine. It's worth the extra effort if you care at all for the way your pizza actually tastes.
And here's the lineup of toppings they include in this pizza recipe (a keeper!):
roasted garlic
roasted onions
roasted red peppers
sun-dried tomatoes
dried basil (I'd use fresh)
fresh parsley
mozzarella cheese
feta cheese
C'mon! I'm salivating, and planning this to be my pizza for next week. If there's anything you need to know, I'll report back! What do you think — does it sound amazing, or what?
Photo Credit: ella novak / Flickr