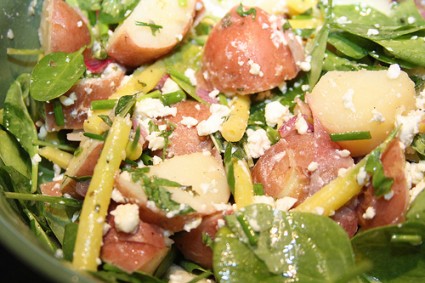 Our CSA Farm has, quite frankly, been pathetic this year. Finally, we got something beside lettuce and scallions this week: lots and lots of the most delicious yellow beans I think I have ever tasted, and more chives than you could ever imagine using, no matter how many scrambled eggs and baked potatoes you can make. So I tossed 'em into my concoction of a potato salad.
I'm almost sure that I would eat just about anything if feta cheese were sprinkled on it, so I tossed some of that in there too, along with fresh basil and baby spinach, and ended up with a really flavorful potato salad exploding with fresh, fresh, fresh!
Potato Salad with Chives and Feta
Ingredients:
2.5 pounds red potatoes, cut into 1-2 inch cubes and boiled until tender
1/2 cup or more chopped chives
1 small red onion, chopped and microwaved for 2 minutes to take the edge off
2 cups yellow beans, halved and lightly steamed
1/2 cup packed fresh basil, chopped
2 cups baby spinach
1/2 cup feta cheese crumbles
For the dressing:
3 tablespoons lemon juice
2-3 tablespoons cider vinegar
1 clove garlic, minced
1 teaspoon dried oregano
lots of freshly ground black pepper
1/3-1/2 cup olive oil
Whisk together dressing ingredients and toss with all other ingredients. If you like a more tart dressing, use the larger amount of cider vinegar and less olive oil.
If I had cherry tomatoes, I definitely would have halved them and included them in the recipe, but I didn't miss them. I was also on the fence about adding Kalamata olives. On the one hand, the flavors would have really complemented each other, but I really wanted this one to be about the chives. I'm afraid the olives would have been the star of the dish and I wasn't looking for that. Oh, one word about the onion: THEY will become the star of the dish if you don't cook them to release the sweetness so they don't compete with the chives.
I served this with organic beef hot dogs, mostly because I was too lazy to defrost anything really yummy. Plus, Keith wasn't home and I am afraid of the grill, so a piece of fish or meat was out of the question. True story.
Photo Credit: Debbie McDuffee