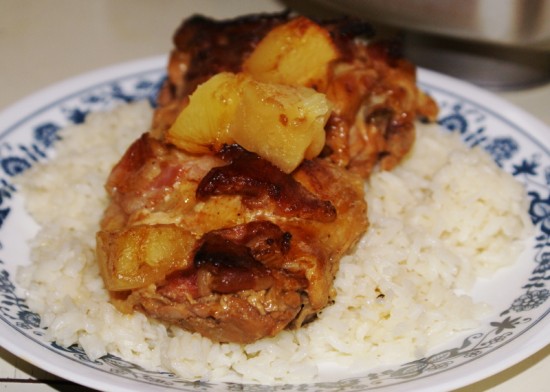 In my quest to improve my diet and eat healthier, I'm trying to expand my cooking skills to new and different ingredients. I've spent a lot of time searching for recipes on the internet. Recently while searching for fish recipes, I came across this delicious Mexican orange chicken recipe on allrecipes.com. For me, fried is about the only way I like my chicken so this recipe is one of several I'm trying now that are way outside my comfort zone.I decided that I would take this chicken recipe for a Recipe test drive. My biggest problem when it comes to eating healthy is that I have certain things I like and I stick to those things. I know how to cook them and I know that I will have a satisfying  and filling meal.
When it comes to chicken I defer to my wife. She is the Queen of cooking chicken and I just can't make chicken taste as good when I cook it. I'm a beef eater and can out-cook her when it comes to anything beef so she was skeptical when I told her I was going to try this new chicken dish. One of the great things about allrecipes.com is that you can enter the number of people you are cooking for and it will modify the ingredients list for the number of servings you requested. This does not change the cooking instructions so you may have to modify that yourself. I always look at cooking times as a suggestion anyways and check my dish often as I cook until it is cooked to my liking. I modified the recipe for two people and followed the ingredients list provided with the revised Mexican orange chicken recipe.
The cooking directions I left as is except that I did shorten the cooking time to 1 1/2 hours.
When the chicken is done, there will still be a lot of juice left in the pan. The recipe does say that this is the way that the dish should turn out. I had decided already to serve the chicken over rice so the extra juice was added to the rice to add the flavor to the rice. This turned out to be a very good idea. The juice added a citrus, bacon flavor to the rice that was amazing.
For the rice, I cooked 1 cup of rice in 1 1/2 cups of chicken broth and 1/2 cup water, 1 tbsp margarine, and a pinch of salt. Whenever I am cooking rice to use in a dish I like to cook it in chicken broth to add a little flavor to the rice.
As we sat down to eat we were both anticipating a tasty treat. The aroma of the chicken was wonderful. The chicken was incredibly juicy and the bacon and citrus flavor was infused throughout the meat. The flavor the juices from the chicken enhanced the rice and really added to the meal. This is one recipe that will be a showing up on our menu again.
Photo Credit: Jeff Love