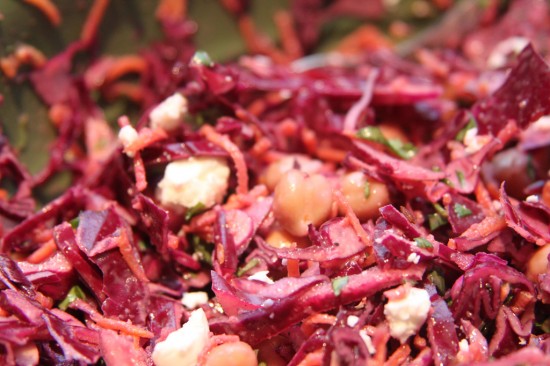 Whenever I serve something like this cabbage salad, I get "the look" from Keith. Don't you know that if it's vegetarian, it's not really a meal? Man, Kona — you must be starving! Tonight I sent Keith out to the grill to cook up some barbequed chicken drumsticks to go along with that air-food vegetable dish, so I was off the hook, but I truly believe this cabbage salad is hearty enough to stand alone. I'll let you know after lunch tomorrow….
I had half a cabbage in the fridge to use up, along with some fresh cilantro, and from there all of the other flavors fell into place. I took a bit of inspiration from Heidi Swanson's Tassajara warm cabbage salad when I added some feta. I couldn't help it — I have this salty-luscious sheep's feta right now that really complemented the other flavors in this salad. It was a natural.
Play around with the amounts of the different ingredients. I used a teaspoon of cumin seeds and dry-toasted them in a skillet for a few minutes, until they were browned and fragrant, but I thought at times that they overpowered the other flavors, so I think a 1/2 teaspoon would be plenty. Keith loved every last cumin seed in there, so you'll have to adjust it according to your tastes.
Cabbage and Chick Pea Salad

Print This Recipe
Ingredients:
2 carrots, shredded
about 4 cups sliced cabbage
1 can chick peas, rinsed and drained
1/2 – 1 teaspoon cumin seeds, toasted
1/2 – 3/4 cup feta cheese, crumbled
1/2 cup fresh cilantro, chopped
For the dressing:
4-5 tablespoons lemon juice
4 tablespoons olive oil
3 tablespoons tahini
sea salt and freshly ground black pepper to taste
Whisk together dressing ingredients and toss together with all of the rest and enjoy.
I toyed with the idea of adding some fresh parsley as well, along with some baby spinach chopped chiffonade style. I think both would have worked great in this dish and I'll probably try it next time. You could alter this a million ways, but I'm telling you, the saltier the feta, the better.
Photo Credit: Debbie McDuffee