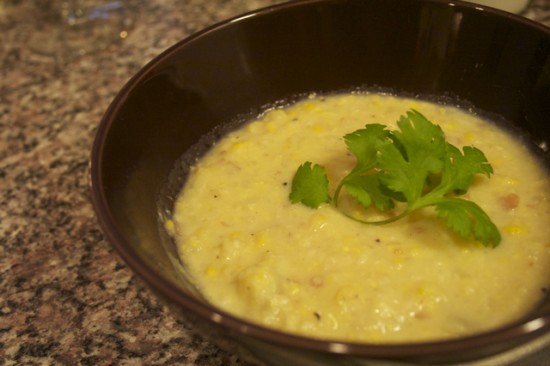 It was the afternoon before Thanksgiving, and all through the house, not a creature was stirring, and I needed to figure out what the hell I was going to make for the people who were going to be showing up at my house tomorrow. I wasn't too stressed about it, since there were only going to be six of us and we were doing a potluck, but I needed to get my act together.
I had half a butternut squash left over from a mildly successful couscous recipe, so one of the things I wanted to make was butternut squash soup. Easy enough, right? Well, I cut into the squash and quickly realized that it had gone bad, so that was out. I still wanted to make soup though, so it came down to what I had in the house already (and those things did not include any sort of cream, which hobbled me substantially).
Luckily, I came across a corn potato chowder recipe on my Big Oven iPhone app. I had some frozen corn in my fridge, onion and potato, so I was pretty much good to go. Best of all, it's a low-fat recipe, so it called for 1%milk instead of heavy cream.
I modified the recipe slightly from what is shown– I omitted the peppers and added garlic powder instead. I would also recommend reserving some vegetable broth if you decide to add the potatoes so you can control the consistency a little bit more.
What we ended up with was a creamy, hearty mild soup that even my two-year-old ate. It was the perfect Thanksgiving appetizer and held us over quite well until the main event of gluttony began.
Photo Credit: Kona Gallagher/kona99 on Flickr