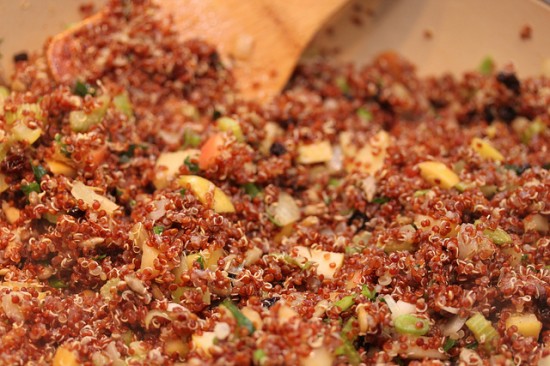 It all started with a craving. Keith wanted something "stuffed" for dinner; he wasn't picky, which actually made it harder, but he finally decided that he wanted stuffed Cornish game hens. Once I talked him out of actually stuffing them (since about a tablespoon of stuffing would fit into that tiny little cavity) then we really had something.
Instead of preparing a traditional bread stuffing, I decided to play with my red quinoa, bought some time ago yet never used. All of my favorite stuffing ingredients went into this inventive side dish: apples, currants, celery, sage, onion and fresh parsley.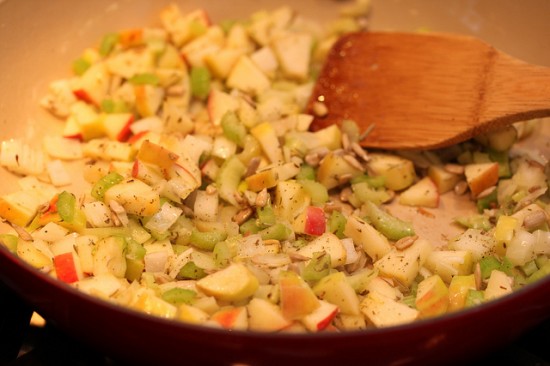 I loved everything about this concoction, though Keith and I decided that to make it truly restaurant quality, we'd have to throw in a pat or two of butter to finish it off (which I've included in the recipe). What really made it better than average, though, was the red quinoa. I like it so much better than regular quinoa, and I'm so sorry I've had it sitting on my pantry shelf for months. It's hearty and nutty and rich; I'll definitely be cooking with it more often.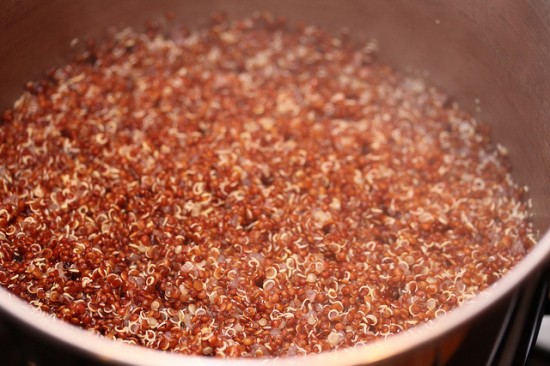 Red Quinoa Stuffing with Apples and Currants

Print This Recipe
Ingredients:
1 cup red quinoa
2 cups water
1 teaspoon chicken Better than Bouillon
3-4 stalks celery, chopped
1-2 apples, chopped
2 small cloves garlic, minced
1 very small onion chopped (about 1/2 cup)
1/2 tsp each dried sage, rosemary, thyme
1/4 cup chopped parsley
4 chopped scallions
sea salt and freshly ground black pepper to taste
1/4 cup sunflower seeds
1/4 cup currants
a tablespoon or two of butter, optional
Add the quinoa, water and chicken bouillon to a pot and bring to a boil. Cover and reduce to simmer and cook for about 15 minutes or until water is absorbed. Set aside.
Meanwhile, heat a skillet and turn a bit of olive oil into the pan. Add the celery, apples, garlic and onions and saute until tender. Add the sunflower seeds, currants and dried herbs and saute a few minutes more. Season with sea salt and pepper.
Add the quinoa to the skillet and heat through, then remove from heat and add the parsley, scallions and the butter (if you choose). Season again to taste.
We served this with the Cornish games hens, of course, stuffed with onions, garlic and herbs, with some roasted Brussels sprouts on the side and a New Zealand Sauvignon Blanc we'd never tried before. A wonderful way to spend a Saturday night.
Photo Credit: Debbie McDuffee