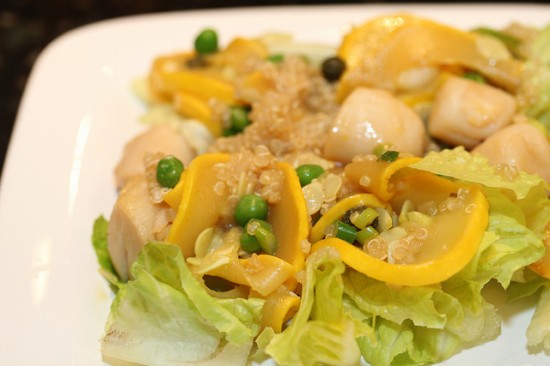 It's not like food hasn't been first and foremost in my mind at least three times a day, what with the meal-eating and all. I've even been doing a bit of cooking. It's the writing part that hasn't been happening.
The scallop dish I threw together tonight was so good that I dusted off the old laptop so I could share it with you. Let me warn you, though, it won't be my usual organized recipe format, because I simply didn't measure (what else is new really) and I couldn't begin to guess. I can share with the the ingredients and technique, and beyond that, it's all about what you like anyway. Do everything to your own taste and it will come out a winner. OK, and I'll try to estimate.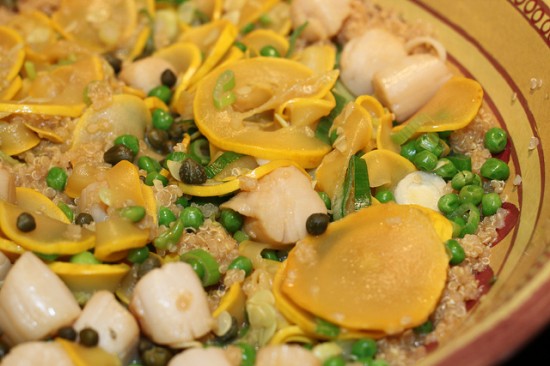 Scallops with Summer Squash and Peas

Print This Recipe
Ingredients:
1 pound scallops
lemon juice, orange juice concentrate, tamari
1 medium to large summer squash, thinly sliced
about 1 cup peas
2 large scallions, sliced
ground coriander to taste
whole cumin seeds to taste
capers to taste
3/4 cup dry quinoa, cooked to package directions
Cook scallops in butter for 30 seconds, then add 1 tablespoon orange juice concentrate, about 3 tablespoons lemon juice and 1 1/2 tablespoons tamari or soy sauce. Simmer until cooked and mixture thickens slightly, about 3 minutes for medium-sized scallops. Do not overcook. Remove from pan.
Add squash to pan and braise in liquid, covered, stirring occasionally, for about 10 minutes or until done. Add ground coriander and whole cumin seeds to taste (I probably used 1/2 teaspoon and 1/4 teaspoon, respectively). Mixture will thicken slightly. Add peas and scallions and heat through.
Meanwhile, cook 3/4 cup quinoa in 1.5 cups water. Dress with lemon juice, tamari, rice vinegar and olive oil.
Pour vegetables and pan liquid over quinoa, add scallops and toss. Sprinkle with capers. Add some chopped fresh basil or parsley if you like.
Serve over grilled romaine, wilted baby spinach or the greens of your choice. I'd stay away from arugula for this one, though; you don't need to add another strong flavor to the mix.
Photo Credit: Keith McDuffee