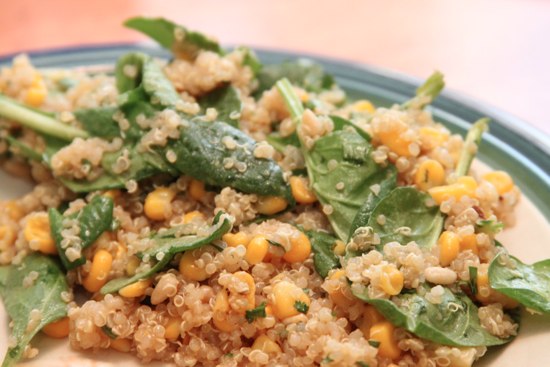 I'm really not sure what is possessing me to make all of these quinoa recipes lately. Probably because they are easy and I can toss in whatever is sitting in my fridge or freezer which works since I've been an extremely lazy grocery shopper lately. Regardless, quinoa is delicious and this latest incarnation got the highest raves from a semi-picky husband, or at least one who is not always forthcoming with his meal compliments.
I served this one with some roasted chicken parts, meaning we really only wanted half of a chicken so Keith wielded his cleaver (so macho) and chopped the sucker into about eight parts and we cooked half. I rubbed them with paprika, onion and garlic powders, sea salt, black pepper and thyme, and roasted them on 350 convection roast, flipping once, until done. Please don't ask me how long that was because I never time things, I just keep peeking. Somewhere between 30-45 minutes would be my best guess, and we cooked the dark meat a little longer than the white meat.
I regret to inform you that I really didn't measure the dressing ingredients for the quinoa recipe very well. I'm a drizzle-taste-redrizzle kind of gal, but it's really all to taste anyway; there's no exact recipe. I think this would be a wonderful vegetarian main dish with some chick peas added, or even some pan-fried tempeh chunks.
The perfect addition to this would be some crumbled bacon; the next time I make it I will unquestionably add bacon, turkey bacon or crispy prosciutto.
Quinoa with Corn, Spinach and Pine Nuts

Print This Recipe
Ingredients:
1 cup quinoa
2 cups water
2 cloves garlic, minced
2 cups frozen corn kernels
3 tablespoons chopped fresh cilantro
1/4 cup toasted pine nuts
2 good handfuls baby spinach
1/4 teaspoon toasted cumin seeds
about 1 tablespoon extra virgin olive oil
about 1.5 tablespoons balsamic vinegar
about 2 tablespoons lemon juice
seas salt and freshly ground black pepper to taste
Bring the quinoa, garlic and water to a boil, then lower to a simmer, cover and cook until water is absorbed. This might be about 15 minutes, or you might check a couple of times and never time it, like I do.
Meanwhile, toast the cumin seeds in a dry pan until fragrant. You can wait until they pop if you like, but there's plenty of flavor released before that. Do the same for the pine nuts.
When the quinoa is finished cooking, add the corn and pine nuts and cover for a few minutes to let the corn warm. Then add the spinach and cilantro. Next, drizzle the oil, vinegar and lemon juice and taste until you get the ratio you like best. Season and serve.
Photo Credit: Debbie McDuffee