A SDCC smoke break with Billy Burke of Revolution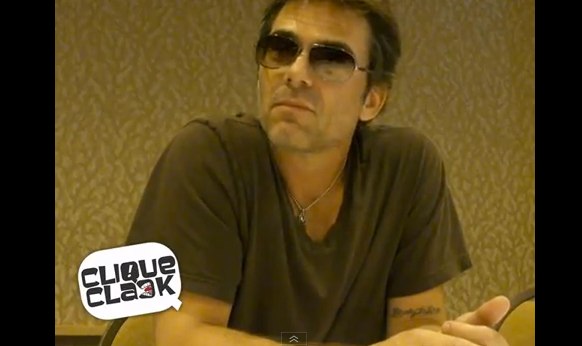 The strangest thing happened to me at the NBC party at Comic Con. I ran into the star of a new show that just premiered a few weeks ago and didn't know it. You won't believe what he told me!
Last July, I was at the NBC party during Comic-Con in San Diego.
Keith and Ivey were with me, getting their picture taken with a famous monkey. I had on a kicking little outfit. Cast members from the show Community were being interviewed by a video crew in a corner. The food and drinks were flowing. I got a free beverage from the helpful barstaff and decided to stroll around.
The crowd was thick and someone bumped me, lurching me into the guy behind me. It was  Silas Weir Mitchell, making an appearance for his show Grimm. He kindly righted me on my feet, shook my hand and asked how I was doing. By the time I murmured that I was fine and thanked him, he had already disappeared into the throng.
Silas wasn't a hard actor to recognize. If you watch Grimm, you know he's a unique looking person. Usually I'm pretty good at spotting actors. At this particular party, they stood out like snow flurries in the California night, placed there by their network to talk with press and fans alike.
I stopped to watch David Guintoli (Nick Burkhardt), who was being swarmed by women. I chuckled to myself that these chicks (who were by no means fat) had at least thirty pounds and three inches of height on David, who's a teeny little guy with a huge Cyclops head. I'm now convinced, watching the new season of Grimm, that the director shoots David from that upwards camera angle to add some proportion to him and make him seem a bit stronger.
Sorry, David. No offense.
Anyway, right about now I was craving a cigarette. (Yeah, yeah. Take your lecture somewhere else for the purpose of my story, please.) The only problem being that with my cute little outfit, the only option was to carry a clutch bag.
I know you girls are with me, but for those of you of the male type persuasion let me just say? You can't fit much into these things.
I had my ID (in case I got murdered in this foreign city) my press pass, some cash and that's it.
So I had to look around the balcony of the Hard Rock and find myself someone generous.
There he was. Standing relatively in the middle of the crowd minding his own business. He was tall and I placed him at a few years older than me, and he was exceedingly swarthy looking. He was puffing away and checking out the crowd with an amused expression on his face. Not a sassy look exactly. He seemed approachable.
But here's my deal: I can't normally talk to men this handsome. In my experience they're usually dicks who are full of themselves.
I've run through my share of those when I was pursuing acting, and when I was in college. But sometimes jonesing for something is more important than your emotional comfort. So I went you to him and asked if he'd mind lending me a smoke I'd never return.
He smiled and pulled one out of his pack. He apologized that they were menthol. I said that beggars can't be choosers and thanked him. We stood and looked around the party.  I started some small talk. I'm waaay good at small talk.
We agreed the San Diego night was pretty. We agreed the food was fine. And at sometime around this point, we started getting interrupted by people who pulled this man aside and said things I could barely make out.
Who am I kidding? I pretended I wasn't listening, but I was.
And I heard things like, "I love you, you're the best. I'm so glad you took a moment to talk. Good luck."
When he turned back to me, I said to him, "Hmm, you're obviously an actor. But I'm sorry to say I don't know from where."
He laughed and replied that it didn't matter. We started trading acting stories — talking about how difficult and gut-wrenching auditions are, and what a thick skin you need to have to handle the rejections. I mentioned I had all but left the business because of that very fact, that for me writing about it seemed a lot safer.
And here's the part I thought you'd like to know: I asked him if he minded being interrupted during private conversations like we were having right then.
He said not at all. He told me that he had a new show starting soon and that he relished the idea of getting feedback from the audience. After being an actor for so long, he felt he'd finally hit it, and he went on to say he was going to enjoy the ride for all it was worth. Because he never knew when he might be out of work again.
We wrapped things up after that. More and more people were wanting his attention. But as I walked away I remember wishing good things for him. It's not often you meet an actor that humble, grateful and honest.
Ivey told me later that the guy I had met was Billy Burke, from the then-upcoming fall show Revolution, on NBC among other things. (If you are currently squealing and wetting your pants in frustration at me — sorry. I'm not a fan of the Twilight movies.)
I guess I'm not so good at spotting actors.
Since then, I've checked out Billy's show. It's not the kind of thing I'd normally watch if I hadn't have met him. It's an interesting premise, though, and Billy does a respectable job in his role.
I've found myself hoping the show does well and sticks around for awhile.
If for no other reason?
Than Billy.
Who's a nice guy.
Photo Credit: Carla Day