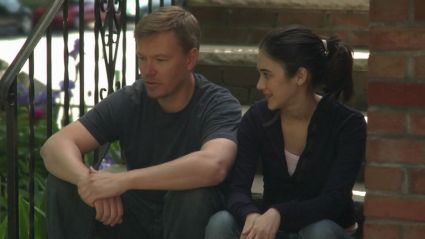 If you can remember as far back as the beginning of 2008 — I know it's hard, but try — the striking members of the Writers Guild of America touted the fact that they were starting their very own website. The site was called strike.tv and it was supposed to feature a number of "webisode" series from WGA writers. Stuff that was their own creation and not dictated by some heavy-handed studio with no imagination whatsoever (at least, that's what I think the WGA members were thinking when they started up the site).
A few weeks ago, Keith reviewed one of the offerings on the site – Mindy Kaling's Hou$e Poor. However, there is much more to this site than just that offering. Some of it features writers and stars you are familiar with. Others are from people who have slaved behind the scenes for other shows. Over the next few weeks we'll take a look at some of the offerings strike.tv has to give us in this ever-changing world of television. Let's begin with some fake babies, fish out of water and sci-fi noir.
Faux Baby — Newly married Madeline is unsure that she will be a good mother. So, her therapist prescribes a 'faux baby' — a doll that displays all of the emotions of a real baby — to try out; just so she can see if she has the goods or not. What follows in this six-episode series is some pretty funny moments as well social commentary on some of the absurdities of parenting, such as extremist breast feeding mothers. There's also an underlying level of creepiness to Faux Baby. Turns out, people want one of these dolls more than a real baby.
Anyone But Me — Produced by writer Suan Miller (The L Word, thirtysomething), Anyone But Me tells the story of a 16-year-old girl who moves from New York City to — horrors! — Westchester for her father's health (he was a first-responder during 9/11). What proceeds is a fish-out-of-water melodrama as Vivian adjusts to her new suburban lifestyle without her girlfriend. There are only two episodes right now (the third will premiere on January 6th), but the story is interesting and the characters are more intriguing than, say, those on 90210.
Tranquility Dome – Set in the somewhat not-too-distant future, this CGI-animated series takes science fiction and adds to it a bit of film noir. Now, when I say this show is CGI-animated I don't mean that it's Pixar or Dreamworks CGI-animated.  Chip Proser, the creator of the series, used store-bought animation software to produce Tranquility Dome.  The result is barely passable computer animation. Still, if you can get past it all, the pilot episode isn't that bad and is worth sticking around for to the end.
The Challenge – A webisode about opening a new DVD? Probably not too funny. That is, unless it's a webisode about opening a new DVD that stars Bob Newhart. In the video, Bob gives himself two minutes to open a brand-new DVD. During that time he uses a variety of products to open it up and gives us some history about his time in the service right as the Korean War was ending. Bob's humor is still as subtle as it ever was and he proves it in this webisode.
Bonus Webisode
Heroes: The Recruit – With Heroes taking a winter break (and, hopefully retooling during that time) NBC has given fans of the show a new webisode series to keep them occupied. The Recruit is a five-part series that focuses on three of the Marines that were brought to the Pinehearst facility in order to be injected with the Captain America super serum.
The main character is Private Rachel Mills (Taylor Cole), who seems to be a Special but is denying it. When we first meet her she is being interrogated by Angela Petrelli. Angela wants to know one simple question: what happened to the super serum that Mills and two other Marines were testing. Honestly, I'm not too sure why this webisode is five parts. The first three parts of the web series could have been added to one installment without losing anything. The next two weeks will tell if expanded this series to five parts was worth it or not.
Photo Credit: Strike.TV