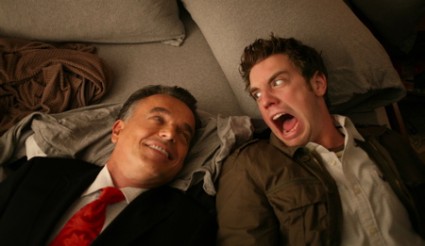 In case you don't know me or haven't read much from me here, I have this obsessive disorder where I need the TV shows I love to be wrapped up all nice-like, whether it's through a graceful end-of-run for the series, or a flat-out cancellation that leaves fans with innumerable questions of how things would have gone, had the show continued.
Starting with my interview with Defying Gravity's creator James Parriott late last year, I came to the conclusion that if you want the answers, sometimes you just need to go to the source. Since it worked so well with Defying Gravity, I went ahead and contacted the creators of another short-lived show I loved, one with its own mythos that was left very much unresolved when the cancellation hammer came down: Reaper. And, wouldn't you know it, I got most of the answers I'd been looking for.

Michele Fazekas and Tara Butters are the creators of Reaper, which only saw a measly two seasons before it was yanked from CW's programming slate. Michelle's and Tara's resumes go back some 11 years, starting off as assistants together on The X-Files, then leading into Law & Order: SVU, Reaper, and serving as consulting producers for Dollhouse. You may have also heard of their recently pilot-ordered show, Cutthroat.
So, how forthcoming were Michele and Tara in spilling how Reaper would have continued? Very. In fact, the only reason they hadn't told the world of how things would have gone down on the show was simple: nobody ever asked. That's both surprising and sad.
It was mentioned some time ago that Buffy alum Anthony Stewart Head had auditioned for the role of the Devil, the role that Ray Wise wound up taking and completely owning.
"I had so much fun writing the Devil character," said Fazekas, who Butters said "was somehow always stuck with writing for the Devil." "Not that that was a bad thing!"
And why didn't they go with Anthony Steward Head, even though Ray Wise was so great? Fazekas went on: "I loved him. There were two things, really. One, the British thing did not suit how we wrote the Devil. How we wrote him, you'll remember, he was always kinda using this hipster lingo and kinda talking hip-hop sometimes. And we always knew we'd kinda have the inevitable Buffy comparison, and as much as we love Giles…."
But wouldn't they have benefited from the cult following of Buffy, rather than have people come down on it for not living up to their high expectations? I know more than a handful of people who stuck with Dollhouse simply because, well, it had Joss and a bunch of old friends of his on-board. And who doesn't love ASH?
"When you're casting," Fazekas responded, "I don't like to think of who's going to get us the most viewers. I want to pick the person who's most suitable for the role. But as soon as Ray Wise auditioned, he was the one. He so embodied the vision of what we were looking for. He was amazing. He just blew people away."
Incidentally, they revealed something I did not know: James Marsters, another Buffy alum, auditioned for the Devil role as well. "After seeing him as Spike [on Buffy] for so long, it was weird getting over that he didn't have a British accent!"
Surprising to me, besides the Devil character, Ben became a dark-horse favorite of both of theirs over time. "He had such an interesting love story with Nina and how that worked in with the mythology of the story." They fully credit Rick Gonzalez: "He, more than any other character on that show, the actor, the person who he is, formed on that character. Ben became a much different person toward the end than he did in the pilot."
So, let's get down to what fans of Reaper really want to know: what was the overall end-game? What was written on those pages that Sam's "supposed" dad burned up from Sam's contract? What other secrets were left to be revealed?
Photo Credit: The CW
This Post Contains Multiple Pages: 1
2