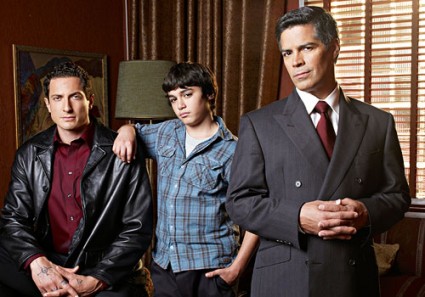 Yes, I've decided to blow the dust off my old column from the days of Battlestar Galactica and bring it back for Caprica — the name still works! At first I wasn't so sure I'd be picking up this show, but each episode has definitely been interesting, to say the least. So, unless the show takes a drastic downward tumble in my book, the Frakkin' Clack is back!
In a comment in my latest review of the show, long-time commenter bsgfan2003 pointed out a post over on io9 about a rumor/speculation/spoiler about the path Caprica may be taking this season. Let me warn you before I discuss this that it's potentially a BIG spoiler, but it's also one that, if true, could really become a "Blow the Hatch" moment for the series.
The speculation mentioned in the i09 post says this: what if little Bill Adama is not the Bill Adama who later commands the Battlestar Galactica?
Wait now … What?!
Yes, you heard me. What if little Willie Adama, the last person left in papa Joseph's family, is suddenly — and most likely tragically — taken away from him? First of all, for anyone not having already read this rumor, seeing an episode where little Bill dies would certainly cause people to sit bolt upright on their couches. If he's dead, then how the frak can this be the guy we saw in BSG? The answer: it's not the same person.
According to the rumors, Joseph Adama has a pretty rocky road ahead of him, and he's going to be facing some pretty nasty stuff in coming episodes. Nothing could be more nasty than him losing his son. Then, apparently, Joseph could remarry and have another son who he also names William. If that's the case though, I have to imagine we wouldn't see the "new" Bill Adama until much later in the series. I'm not sure I could picture Joseph having another child so soon after losing two, but I could be wrong.
From io9: "Supporting info includes the fact that Willie's eyes are the wrong color, and Admiral Adama's dossier in "Hero" said his mother was "Evelyn" not "Shannon." (And we just met an Evelyn, the law clerk.)"
If this is true, it really could be the moment when viewers say the show Blew the Hatch. I will say that shaking things up like that in this series couldn't hurt.
Photo Credit: Syfy