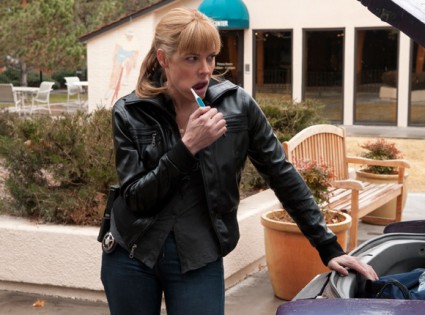 My sense of the universe being on solid footing was put to the test last week when Ivey seemed to agree with me about season two of In Plain Sight leaving something to be desired. Because I certainly felt it, which led to my surge of excitement at the news that the show had put a new show runner in place, something I had hoped would restore the structure of the series to its season one form.
I'm not so sure that jettisoning characters is the way to go, especially someone as enjoyable as Dershowitz (Todd Williams), but I certainly wouldn't say no to an exit by Brandi (Nichole Hiltz) and Jinx (Lesley Ann Warren) … Mary's family has become nothing more than an annoying nuisance, and literally cleaning Mary's house — so long as Peter Alpert (Joshua Malina) can stay — would serve the show well.
As quickly as it comes and goes, In Plain Sight does a really good job hooking us into the opening story that sets up that week's witness plot. Last night's one-and-done really got me going, although the excitement does wane quite a bit once the characters enter WITSEC. I understand, because at that point the story is about something or someone screwing up their new lives, but I do want to commend the show for getting me into the plot so fast.
Because it doesn't seem to be doing anything else right. That full clean over at the Shannon house? It's only worthwhile if it includes Mary as well.
I was excited about getting a glimpse into how Mary and Marshall met. And I know that we were supposed to be wowed by how much, and also how little, Mary seems to have changed. But as I watched, all I wanted was for her to die. I kept hoping that somehow, magically, she'd die, even though I knew that she was still alive seven years later on the present-day show. And just so we're clear on this, the current Mary is no better.
I didn't review last week's premiere, but I knew halfway through that episode that I was likely done with the show. Mary is completely insufferable, and making her omnipresent (those voice-overs, whether they're new or not, are awful) has obliterated any enjoyment I once got from watching Marshall.
The one moment that I did enjoy, between both episodes, was 2003 Mary's talk with Henry (Josh Cooke) about his coming to grips with the fact that it had been his uncle who'd ordered the hit on his parents. That was season one Mary, really connecting on an emotional level with her protectees. But if you'd blinked, you would have missed it. In all of season two I never saw it return, so there's no reason to think it will as this season goes on.
It's great that Eleanor (Holly Maples) disappeared, and it would be awesome if Jinx really is done for, but I can't give Mary Shannon more of my time. I will tune in for her funeral episode, but that's it for me. Allison Janney, if you still can, rethink your decision to play a guest arc on the show; you want to keep as wide a berth from this train wreck as you possibly can, West Wing reunion or no.
Photo Credit: USA Network