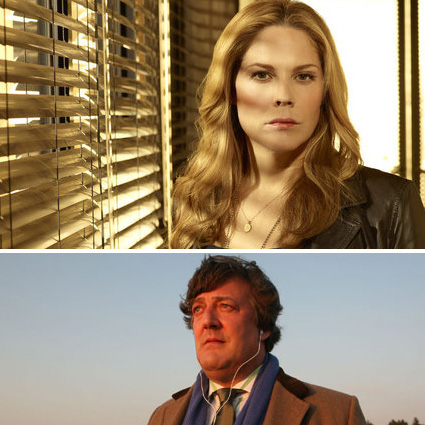 I know, I know. I can't stop comparing my favorite American TV shows to my favorite British shows. Next on the list are In Plain Sight and Kingdom. I know Kingdom and In Plain Sight might not seem that similar, but when I watched ITV's Kingdom on Hulu last year, Peter's intense responsibility reminded me of Mary and I had to write about it. While In Plain Sight (2008-2012) ended a couple months ago, it still remains in my mind. Starring Mary McCormack and Frederick Weller, In Plain Sight surrounded a curmudgeonly US Marshall serving as a pseudo-parent to her crazy clients and her insane family. Despite her awesome problem solving capabilities, she remains a relative homebody whose relatives use her house as a rent-free repository for their social lives (and destructive habits). Similar to In Plain Sight, Kingdom (2007-2009), starring the awesome Stephen Fry, follows a local lawyer, Peter Kingdom, who protects the local community members while handling the shadows that surround his family, especially his brother and sister.
Although both In Plain Sight and Kingdom are undeniably quirky shows with incrediby quirky clients, each contains a dark familial center. On the surface, both Mary and Peter appear utterly different. Mary is temperamental and impatient while Peter is happy-go-lucky yet whimsical. But, beneath the surface, both shows appear incredibly similar concerning responsibility and reality. Both characters deal with the shadow of absent, assumed dead, family members and the burden of jobless, promiscuous, flighty female baby sisters. Watching Peter investigate his brother's disappearance and Mary deal with her absent parental hole gave both shows a darker feel that contrasted with their overall warmth. Although Peter put up a better front than Mary, both leads always appeared lost when dealing with unexpected familial issues, despite easily handling their clients' issues.
In terms of supporting characters, the shows do differ. Yes, Mary deals with uber-chipper junior detectives and an uber-loyal partner. And, yes, Kingdom handles his incredibly eager, young assistant alongside his HIGHLY loyal secretary. However, there the similarities end. While Gloria is the sister Peter never had, Marshall is the brother, lover, best friend, partner and everything-in-between that Mary never had.
Although I loved In Plain Sight's introspective monologues, I loved Kingdom because it's warm. My obsession with British cozy mysteries translated into an obsession with British TV shows like Kingdom, Monarch of the Glen and Ballykissangel portraying warm-hearted, small communities. I have to shout out to Hermione Norris as Beatrice Kingdom, Peter's messed up sister. She did such an awesome job in Wire in the Blood, Spooks and Clarissa that I didn't even recognize the hyper-sexual character she portrayed. I won't lie. The first season her portrayal was rough. She came across as a bad actress who'd never done comedy. Then, I realized, she's an amazing actress who hadn't done a lot of comedy (to my knowledge). But, once she hit the second season, she sank into the character.
I don't even need to describe Stephen Fry as the lead character, Peter Kingdom. Come on now, what has he done that HASN'T rocked? That's right. Nothing. I can't even describe him in the role, because how do you describe perfection? God-like? Deific? Stephen Fry-esque? Exactly.
But, yea, just like Mary's the US Marshall you wish existed, Kingdom is the guy who will always pull your fat out of the fryer.
So, come on, I know you want to give Kingdom a shot. If you like In Plain Sight (or wanted a more mellow lead), then try Kingdom. If you like the awesome Britishness that is Stephen Fry (Qi, Bones, Jeeves & Wooster), then try Kingdom. If you have nothing else to do on a weekend and have eighteen hours free, then try Kingdom.
So, don't wait. Hop on Hulu and watch it today!
Photo Credit: The Stage, USA