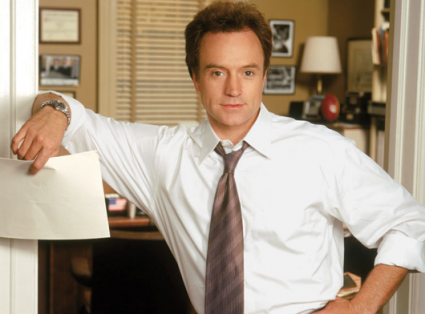 You guys know characters are my thing, so when I saw Jennifer Canzoneri over at Smart Pop Books had listed her five favorite television characters of all time, it got me thinking about mine. Keep in mind, though, that I'm still a relatively young guy, so my television history starts sometime in the early ER days. Also, I like what I like, so shut up about Mad Men. I'd like to say that my top five is listed in no particular order, but that would be a lie. There's a number one, and then there are four other awesome characters.
Wesley Wyndam-Pryce, Buffy the Vampire Slayer, Angel
I've talked about how much I like ole' Wes before. The defining characteristic of a developed character are the distinguished, well-reasoned changes they experience. When you can chart the growth of a character over more than five seasons, you really have a chance to see a great deal of change (Or, not … Angel pretty much was the same vampire all eight or so seasons he was around). In Wes's case, I think "mature" is a better word than "grow," as he walked down a pretty dark path.
Veronica Mars, Veronica Mars
A long time ago, I used to be friends with Veronica Mars. I was actually a bit late to the Mars bandwagon, but hitching on was pretty much one of the best television decisions I'd ever made. Veronica was about as quick witted and sassy as they come. As much as people bash the second and (especially) the third seasons, I liked them still because the characters were the same, even if their lives weren't.
John Carter, ER
The other classic (well, Ivey-classic) definition of watching a character change over the course of time is the venerable Dr. Carter of Cook County Hospital. I've actually argued before that when you look at the whole of ER, the defining story is watching Carter grow up from the child we met in the pilot to the man showing Rachel Green around the ER in "And in the End…" I'm not sure when I began to love the doc, but by the time the season four episode "Exodus" had aired, I knew he was the kind of guy I wanted to be.
Kara "Starbuck" Thrace, Battlestar Galactica
Most of the characters on this list are broken in some way or the other, but none no more so than Starbuck. From moment one on Ronald D. Moore's re-imagination of the original series, we knew that Thrace was about as screwed up as one can be (though, to be honest, Tigh had it coming). During the course of the series, things only got worse, from living in captivity with Leoben to, you know, dying, and yet Starbuck endured.
Mr. Number One should be no surprise, considering the picture, but:
Josh Lyman, The West Wing
If I wanted to be John Carter when I was younger, I think I've become Josh Lyman. As viewers of The West Wing know, that isn't necessarily a good thing. Josh was incredibly brilliant, but stepped in it as much as he ever got things right. I love his passion, I love his determination. I'd like to say that Josh, too, grew over the seven seasons of The West Wing, but not as much as some of the other characters on this list. He just learned how not to let himself get the best of himself. Josh was awesome at his best, and at his worst.
If you've not checked out Smart Pop Books before, they've got some outstanding collections of essays about a variety of television, film, and comic properties. I definitely suggest Seven Seasons of Buffy, and the essay exploring who the most powerful character on the show was. It is not who you'd think.
Photo Credit: NBC