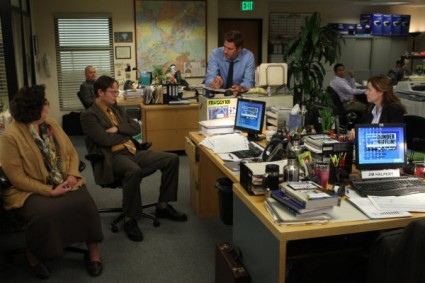 Tonight's episode wasn't an awful one. In fact, it had some decent lines and even the opening sequence was OK. But for a show that's been as iconic as The Office has been, a season premiere — of all episodes — needs to come out rocking. It needs to become that show we talk about again at the break room, and not about how much it sucked. They obviously had the time and chance to do that again with this episode, but it just didn't happen.
Oh, I'm sure there are lots of people who simply loved this episode, and I'm not going to fault you for that one bit. If this is your thing, then I'm glad you're enjoying it! For me, though, the ride is over. When your thing is watching and writing about TV shows, sometimes you just need filter out stuff that's not worth your time. Unfortunately, The Office is being swept into the waste bin.
How are you feeling about The Office? Done with it? Have been done with it for a while now? Or maybe it's as good as ever, in your book? With Steve Carell gone after this season, the show may reinvent itself and bring me back, but something tells me I shouldn't hold my breath. Hell, even Carell's done with this show.
(Note: Aryeh, our regular reviewer of this show, will likely be back reviewing it next week. So, though I'm done with it, you can still come back and hear what he has to say.)
Photo Credit: Chris Haston/NBC