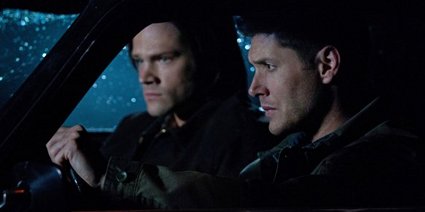 CW - There was nothing out of the ordinary to report in the numbers for CW last week, but the little network did make some news in announcing renewals for Vampire Diaries (2.54m/1.2), Supernatural (1.58m/.7), and 90210 (1.13m/.6). Or perhaps they made news by leaving Gossip Girl (1.02m/.6) off of that list. We'll probably have to wait until upfronts to find out the fate of that one, along with Hart Of Dixie (1.39m/.6), Secret Circle (1.23m/.5), and Nikita (1.24m/.4). Next Top Model (1.01m/.5) was already set for a return next fall, and I think it's safe to assume that The LA Complex (.58m/.3) won't be coming back.
ABC - With sweeps bringing out a full schedule, there are a couple things that stand out for ABC. First, Once Upon A Time (9.2m/3) is one of the biggest surprises of the season. Who would have bet last fall that OUAT would be the #3 demo show on the network when May sweeps rolled around? Finishing behind only Modern Family (10.06m/4.1) and Grey's Anatomy (9.24m/3.3) puts the show in good company. And finishing ahead of Desperate Housewives (8.02m/2.5) and Dancing With The Stars (16.2m/2.8 – 13.87m/2.4) is nothing short of shocking.
Second, the news is not nearly so good on the new comedy front. The fall of Last Man Standing (6.52m/1.5) as the season comes to a close is making that Tuesday comedy block look rather iffy. Cougar Town (4.77m/1.3) isn't helping matters either. The Wednesday comedies look a little better, with The Middle (6.63m/2), Suburgatory (5.79m/2), and Don't Trust The B (5.73m/2.3).
The other good news in drama is Castle (11.08m/2.3), which continues to make the most of the post-DWTS slot. And when the competition is GCB (5.52m/1.8), Private Practice (7.38m/2.1), Missing (6.32m/1.2), and Scandal (6.69m/1.9), it looks like they can go ahead and string that Castle/Beckett story along for another 22 episodes.
CBS - Much like Once Upon A Time, another big surprise from this season is the success of 2 Broke Girls (9.24m/3.6). Getting the Monday at 8:30 time slot pretty much guaranteed the show would start well, but we've seen a number of shows over the past few years that quickly dropped in the following weeks. Not only did 2BG not drop, it spent the season besting How I Met Your Mother (7.99m/3) on a regular basis, and is threatening to unseat the new Two And A Half Men (11.32m/3.8) as the top dog on Monday. Mike & Molly (10.16m/3.2) and Hawaii Five-O (10.91m/2.5) checked in at the usual levels to round out another Monday.
In other news, the Gibbs train just keeps rolling. As numbers drop in the spring, NCIS (17.58m/3.1) has plenty left in the tank, and with NCIS LA (15.21m/3) and Unforgettable (10.66m/1.8) in tow, still brings home the #1 spot for CBS on Tuesday. In similar fashion, Big Bang Theory (13.91m/4.7) is the engine driving Rules Of Engagement (8.88m/2.7), Person Of Interest (13.27m/2.5), and The Mentalist (12.94m/2.5) to #1 on Thursday.
Sunday and Wednesday weren't as strong, but still brought decent performances from Survivor (9.43m/2.6), Criminal Minds (11.47m/3), CSI (9.75m/2.3), Amazing Race (8.6m/2.3), and The Good Wife (9.97m/1.7). If there are trouble spots, one is NYC 22 (7.44m/1.2) which is again last in the demo for the network, and next to last in viewers. The other slight cause for concern is Friday, which CBS has owned for years, but has slowly fallen this season. Last week, the combination of Undercover Boss (6.29m/1.4), CSI NY (8.95m/1.3), and Blue Bloods (10.1m/1.4) was upset by ABC's unscripted slate.
FOX - This is starting to remind me (just a little) of the Millionaire shenanigans at ABC, where ABC became so reliant on that show that when it went away they were not prepared at all with other programming. As we see American Idol (16.66m/4.7 – 15.56m/4) start to slow, the rest of the hit-cupboard is looking kind of bare.
Sundays are ok, with Simpsons (5m/2.3), Bob's Burgers (3.92m/1.9), Family Guy (5.63m/2.8), and Cleveland (4.06m/2), but the rest of the week is looking a little iffy. With House (6.45m/2.1) on the way out, a shrinking Glee (6.01m/2.5) is the strongest drama, and I have my doubts about it rebounding with another season. Bones (7.16m/2) and Touch (6.72m/2) don't look like candidates to anchor anything, and Finder (3.96m/1) and Fringe (2.85m/.9) are what they are. Even fall's big hit comedy, New Girl (4.4m/2.2), is limping to the finish line. The network really needs to find something new for the fall.
NBC - Another week led by unscripted programming as The Voice (9.52m/3.5 – 8.9m/3.1) and a finale-boosted Biggest Loser (7.2m/2.7) made up the best four hours of the week. The drama department continues to bring the oddity of Harry's Law (7.33m/.8), which manages to best Awake (2.15m/.7) by five million viewers, but only a tenth in the demo. Rounded out by SVU (6.62m/1.9), and the already renewed Smash (5.34m/1.8) and Grimm (4.7m/1.3), there are still more questions than answers on the drama front.
There aren't a lot of answers for comedy either. Community (3.2m/1.4), 30 Rock (3.04m/1.4), and Parks & Rec (3.26m/1.7) all remain woefully low, and The Office (4.44m/2.3) is slowing falling back to join them. The other new entries for the week came from Celebrity Apprentice (6.38m/2), Fashion Star (4.23m/1.5), Off Their Rockers (4.91m/1.3 – 4.9m/1.4), and Rock Center (4.14m/1.2).
CABLE - HBO again pulled out the early renewal wand, giving second seasons to Veep (1.15m/.5) and Girls (.82m/.4). That's a little surprising if you consider all of those viewers from Game Of Thrones (3.9m/2) that are turning the channel at 10, but not so surprising given HBO's history. They do seem to give most shows a more than fair chance.
Basic

Army Wives (2.81m/.9)
The Client List (2.41m/.9)
Mad Men (2.31m/.7)
The Killing (1.35m/.4)
Breakout Kings (1.33m/.6)
Eureka (1.47m/.5)
Secret Life of the American Teen (1.47m/.8)
Lost Girl (1.08m/.4)

Make It Or Break It (.91m/.4)
The Game (2.02m/1)
Let's Stay Together (1.59m/.7)
Hot In Cleveland (1.11m/.2)
Happily Divorced (.84m/.2)
Deadliest Catch (2.61m/1.2)
Top Shot (1.58m/.7)
Swamp People (4.22m/1.5)

Premium

The Borgias (.58m/.2)
Nurse Jackie (.47m/.2)
The Big C (.43m/.2)
Photo Credit: CW