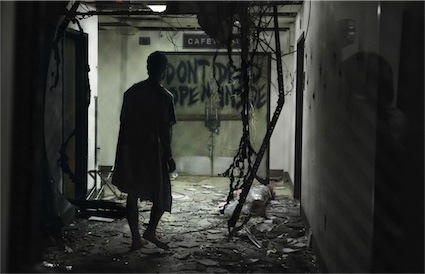 I may not be as caught up on the Walking Dead comics as the most die-hard fan is, about five issues away from current (77). Going from 72  issues of a series, essentially back to the beginning again, is a surreal experience. I've witnessed these characters go through so much through a long span of time. Seeing actors portray these characters, knowing what could likely happen to them down the road … it's like I've gone back in time.
For newcomers to this story, I'll sum it up briefly. Rick Grimes (Andrew Lincoln) is a small-town cop in Georgia who was shot in the line of duty, which resulted in him slipping into a coma. Much time passes, and he wakes up, alone, in a hospital bed. He rather quickly discovers that the world has undergone quite a change while he was out, in the wan of an infestation of zombies. He sets out to find his wife Lori (Sarah Wayne Callies) and son Carl (Chandler Riggs), or really anyone who's still alive, to start. I'll leave you with the rest to discover on your own.
The first episode of AMC's The Walking Dead should make any fan of the comic book series giddy. That's not to say that it's a shot-for-page remake of the first part of the series, but there's no doubt it's respectably faithful. In fact, I'd say the changes made in the first episode are for the better. However, some of that remains to be seen as the series progresses.
For example, in the comic books, Rick spends only a few pages with Morgan Jones (Lennie James) and his son, Duane (Adrian Kali Turner). Rick actually spends quite a bit of time with the duo in the pilot, and it's incredibly effective. I'm afraid to go into too much for fear of spoiling newcomers to the comic books, but I'll say that having Morgan play such a significant part in the pilot could mean a bigger change to the televised storyline for his character. There's a very emotional scene with the Jonses that simply isn't even touched upon in the books, and for that reason alone the changes in the pilot are for the better.
The creepy factor and the monster effects are all of what you'd expect and more. This is a world that is — for all intents and purposes — dead. Rick's moments in the hospital and immediately afterward are chilling. The detail put into the mayhem that went on in and around the hospital speak volumes for what happened while he was comatose in his bed, and what's to come. The undead are creepy and the violence is just what you'd expect: brutal and disgusting.
The second episode is where things take quite a stray from the book story. There's a new character introduced (Merle Dixon, played by Michael Rooker) for one thing, and nearly the entire episode takes place in Atlanta. For you book readers, you'll recall Rick and Glenn (Steven Yeun) spent maybe a page or two there. The city plays a much larger part in the story this time, and the fallout will clearly have implications for the rest of the story.
Another big change in the story is the relationship between Lori and Shane (Jon Bernthal). That was something that was revealed to us over a long period of time in the books, and their "relationship" — if you want to really call it that — wasn't at all what's shown on-screen. The way that plays out is going to be interesting, as it's really going to call into question how Lori will really feel about Rick still being alive. It also may significantly change the course of actions and reactions of what's to come.
Again, the straying from the books, so far, has not been a bad thing. It keeps the story fresh for everyone, while still presenting existing fans the characters they've come to know for so long. I'd love to go into all of the gory details here, but I'm afraid I'd ruin the fun for everyone, and I don't want to spoil it for you. So far I'm very pleased with how the series has been translated to television. I can't imagine that existing fans will be disappointed. As for newcomers, you either know what you're getting into and should be happy with it, or will be revolted and/or frightened to the point that you'll quickly know the series isn't for you. I give the first couple of episode high marks, for sure. I cannot say I'm disappointed in the least.
The series premieres October 31 on AMC. I'm having a sort-of "up all night" chat that night, and one of the shows we might be discussing then is this one. Hopefully you can join in!
Photo Credit: AMC