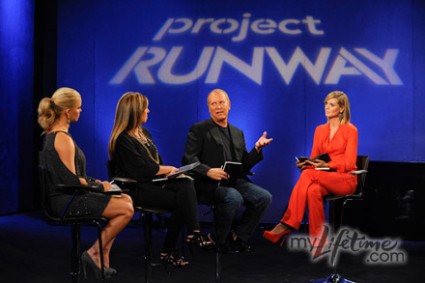 Season eight of Project Runway is officially over and I am thankful for that. I can only hope that Season nine will bring back the goodness of previous seasons. There are many reasons why I didn't really care for this season, but I place most of the blame on the judges. What were they thinking this season? At least in the finale, we got to hear a little more of their thinking. But, as in previous episodes, they said one thing and then did another. How in the world did Gretchen end up winning this season?
It is almost as if the judges declared her the winner in the first few weeks and did whatever was necessary to have her end up the winner. I'm sure that isn't what actually happened, but that is how it feels. I think that Mondo should have been the winner. According to the poll posted on Thursday, most of you agree as well. 83% felt Mondo should have won, followed by 13% for Gretchen and 4% for Andy. But, that wasn't to be the outcome. It was destined to be Gretchen, it would seem.
Other than the disappointing end, I missed the model component of the competition. It was a huge shift from having the Models of the Runway show last season to not even having the contestants pick a model each week. Was there even a model competition? Gretchen's model never came out at the end, so I guess there wasn't.
The show was also longer this season at 90 minutes. I'm not sure if that ended up being a good or bad thing. I did enjoy getting know the designers a little more than in the past and seeing them in the workroom. But, I didn't like all the drama between the designers. I'm not sure if that was due to the longer episodes or more an editing choice by the producers. Yes, it is reality television, which seems to thrive on controversy, but, I prefer less drama and more fashion.
What did you like and not like about this season of Project Runway? Share in the comments!
And, if you haven't answered the poll question yet, who do you think should have won Project Runway?
Photo Credit: Lifetime