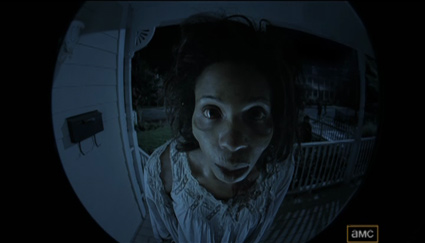 The hype for this show has been overbearing, hasn't it? And you know what? It's been worth it.
As I said in my preview post for The Walking Dead, so far this show is everything I've hoped for and more. Initially I was a bit worried that the show might present the characters in a way that makes me not care one bit for them. Right from the get-go, though, I'm already feeling involved in these characters' lives. Bringing them from book to screen has truly given them more dimensions than what the books had provided, and I'm seeing them in a completely new light.
I said earlier, in a comment to Bob's post on his thoughts on the show, that what I believe makes Walking Dead stand out is its lack of clear endgame. In the books, at least, there's no search for a cure for the zombie apocalypse. This is just a show about a group of people — a group that grows and sometimes shrinks in number — and what they do to survive not only "the walkers," but other uninfected, crazy human beings. It's not just what they do in general to survive, it's what they are willing to do to each other and themselves to live.
For this episode in particular, the title itself lends from the first book of the series, "Days Gone Bye." A lot of it is taken right from the first few issues of the comics, though there are definitely some things that weren't so much changed as they were rearranged or given more detail. For example, Morgan Jones (Lennie James) and his son, Duane (Adrian Kali Turner) barely appeared in the books, though I really liked what they did with them here. The most powerful scenes of the episode were toward its end, Rick once again confronting the legless zombie from the side of the road, and Morgan Jones trying for the courage to put a bullet in his zombified wife's head. Rick's scene was in the books, but not Morgan's.
Something you'll come to learn about Rick (Andrew Lincoln) is that he's a man who believes he knows what's best for everyone. Already he starts off with trying to talk a horse into a "better" situation beyond its safe existence in a zombie-free, grassy field; look where that led. This had been the most frustrating and unlikable trait of Rick's from the books for me, though somehow seeing it play out on TV makes me feel a bit better about his character. I only hope that continues.
Since I always seem to like to overly dissect a show like this, like with the books, I can't help but wonder if everything comes down to that hospital where Rick woke up. I mean think about it. He woke up unharmed in a long-deserted hospital, yet had enough energy to get up and walk out of there unscathed. Was he really the only person left there? How could he have lived without food or water, not to mention his hospital gown not being completely, y'know, soiled? Was someone secretly taking care of him all that time, or is Rick special in some way? I really believe these are just issues one shouldn't be concerned with, but, like I said, I tend to get too involved in these details.
So, for you, did this show live up to the hype? Trust me, if you're not sure yet, stick around through the next episode at least; it's a doozy.
Photo Credit: AMC