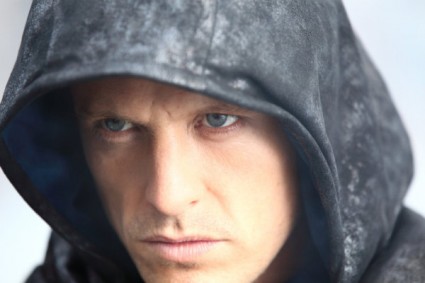 If you're experienced at doing press coverage at events like the San Diego Comic-Con, you know how it is. With television panels and events, it's impossible for two people to cover everything, never mind only one. Such was the case for me last year, and so I had no choice but to be picky. So when I saw that NBC's The Cape was taking up a smaller room to debut the pilot episode, followed by a Q&A with the cast, I was at first not interested; nor was I all that interested in talking to the cast in the press room afterwards. As it turned out, I wound up getting shut out of the room I wanted to get into, so I sulked off to see The Cape screening instead.
The Cape sounded and looked corny. It was at NBC, and it was coming mid-season. It did not have the makings of something that would succeed, especially when Heroes went down the dumper and we already had No Ordinary Family on its way. It felt like superhero-show overkill.
So, I sat through the screener. Forty-five minutes or so later and I was clapping with the rest of the room at what we'd just seen. I was completely converted. We were laughing at funny parts; cheering at exciting parts! I felt so, so wrong about my initial impression. I felt this show could really succeed. I wound up going to the press room and telling creator Tom Wheeler that he'll be in Ballroom 20 next year; that the show was going to be a geek hit. Best show of the new season.
Then I started reading some of the previews going around the 'net these past few weeks. Let's just say those I read did not have much good to say about it. But, how could this be? There were hundreds of us cheering and clapping at the screening! Did they change the show? Were we all gassed with Nitrous in that conference room?
I had to watch the screener to find out what was going on. I'd received it at some point and hadn't gotten to it, since I'd already seen it. The screener I received happend to have the first two episodes on it, when I'd only seen one at Comic-Con. So, I sat through the two episodes and … it felt different, but it was the same. The parts I thought were funny at Comic-Con didn't feel all that funny anymore. The exciting parts weren't all that thrilling. Was I wrong about this show AGAIN?
I have a theory for why the initial viewing came off more impressive than the screener. It's not because subsequent viewings aren't as good. It's because of the crowd mentality. When you're watching something on a big screen with a lot of hyped-up fans — people who were likely there because of Summer Glau — things are bound to be kicked up a few notches. People laugh together; they cheer together. It feels like you're watching the best thing ever! Same thing happens in movies: Go see a crappy B-movie at midnight on opening night and it's a totally different experience than seeing it a week later. I'm sure this is why some networks are doing theater screenings of their new shows, because they know this to be the case.
Even though I'm saying the experience at Comic-Con was much better that seeing the screener at home, I'm not going to say this is a bad show. I feel that many reviewers are shitting on the show because it's "another super hero show yawn." Just as I was before seeing the show for the first time, they went into the show hating it before they pressed "Play"; it didn't have a chance in hell.
One thing you have to realize going into this is that it's meant to be campy. Unlike Heroes — which took itself way too seriously — this show really does come off as a live-action comic book. There are guys with weird afflictions and nicknames to match; the hero's disguise is almost as absurd as Superman's. If you roll your eyes at classic comic books like Batman and Superman, then you won't be amused one bit by The Cape. It's not a show to be taken very seriously — it's just meant to be fun, just not in the family-fun style of No Ordinary Family … and without super powers.
Back to how I started this post. I am afraid to recommend this show. If so many critics are already filling the minds of readers that this show sucks, it's doomed already. Why would you listen to little ol' me? How's my track record? Awful. I feel The Cape has a very strong appeal to certain people, but the size of that group is not going to be enough to keep it alive. Had this show come first — before Heroes ever existed — it may have had a chance. Now, though, too many people have baggage there, and with No Ordinary Family already with a head start, it's going to feel like hero-show overload.
Please, though, give the first two episodes a chance. I'd at least like those of you who go into this show with an open mind to come back here (or to the review post that night) and give your opinion. Were you able to accept that it's campy without coming right out and telling you it's supposed to be? Was it just simply awfully executed and you couldn't be bothered?
The two-hour (two episode) premiere of The Cape is next Sunday, January 9th on NBC, at 9 PM Eastern.
UPDATE: Want to see the first hour now? Here you go (if the player doesn't work, download the video here):
UPDATE 2: Looks like NBC and the DC Comics iPad app took the video down for the time being due to "high traffic" issues.
UPDATE 3: It's back!
Photo Credit: NBC