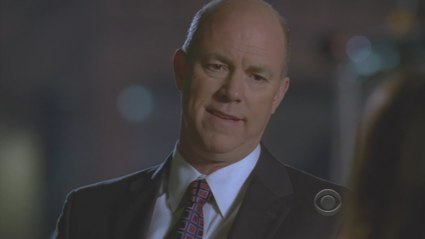 First of all, for those wondering, the William Blake poem Gale Bertram mentioned toward the end of this episode is called "A Cradle Song," by William Blake, with the portion he recited being:
When thy little heart doth wake,
Then the dreadful night shall break.
What's that you say? You remember hearing about a William Blake poem having something to do with The Mentalist before? Oh, that would be because the person we're to assume is Red John — and at least one person who's associated with him — has uttered a section of another of Blake's poems, The Tiger. "Tiger tiger, burning bright." That ring a bell?
So, with that in mind, one can only assume we're supposed to now believe Director Bertram is either Red John or at least the one responsible for burning up Todd Johnson. Earlier I mentioned a pretty interesting theory that Brett Partridge could be Red John or one of his "disciples," and now we're thrown for a loop with this nugget. The thing is, the Partridge theory is something we outsiders observed by mere chance, whereas hearing Bertram come right out and recite a William Blake poem can hardly be ignored by anyone.
Obviously we're not going to find out who Red John is yet, because it's reportedly supposed to be a series-long arc for this show. That said, I can easily believe Bertram being one of Red John's cohorts, leading to his eventual incarceration and several episodes of Patrick Jane visiting him in his holding cell, bleeding him for information on who Red John is and where he can find him.
What do you think? Is this poem recitation a huge red herring (hey, there's that "red" again) or do you believe Bertram really is involved in all of this?
Photo Credit: CBS