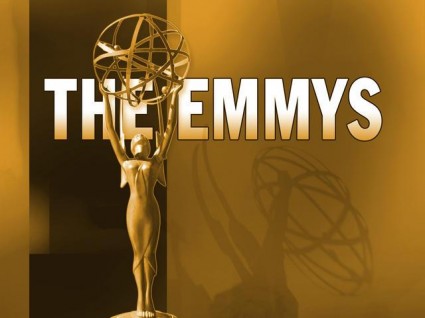 It's that time of year again! The regular seasons are over, some reflecting has been done, and it's time to prop up your feet, look back at the year, and decide who should win an Emmy. It's like Christmas for TV nerds like me, only even better.
Now, when I think about who I want to win, I never think about the drama categories because, frankly, I don't really watch dramas. My only opinion as far as that's concerned is that Scott Caan deserves at the very least a nomination for his work on Hawaii Five-0, if not to win the entire thing, and I will continue this campaign until someone listens to me and gives the guy his damn award already. The other thing I think is, on my dream comedy ballot, Glee isn't allowed. Frankly, I'm not sure why Glee even counts as a comedy. I could maybe see last season, when it was still a good show that straddled that quirky dramedy line, but not this season. This season was one giant death spiral of self-righteousness and poorly conceived preachy after-school specials set to music, and there's nothing funny about that. It's pretty clear to me that Glee submitted itself as a comedy because they decided it would be easier game to win in a comedy category over a drama. This, in and of itself, is an attitude that enrages me — the idea that comedy is less "legitimate" than drama, or that it's an easy place to pick off weak candidates only nominated out of pity. Well, (expletive) that. Glee doesn't make it on my ballot this year. But here are some very deserving shows and actors that do:
Best Supporting Actress
Gillian Jacobs (Community)
Jane Krakowski (30 Rock) *
Busy Phillips (Cougar Town)
Aubrey Plaza (Parks and Recreation)
Colbie Smulders (How I Met Your Mother)
Casey Wilson (Happy Endings)
I could write essays on why each and every single one of these actresses (and a few that didn't even make the final cut) deserve to win this Emmy. This was, in fact, the most difficult category for me to narrow down my nominees and justify my choices. But in the end, there was one woman I kept coming back to — Jane Krakowski. Sure, she's been nominated a few times, but she's never really seemed to be a serious contender, at least not in my mind.
I don't know what kind of voodoo magic went on between the writers room and the performance Krakowski pulled off, but in a season that was on and off in terms of quality, the one thing that never wavered was Jenna. Whether she was playing stage mom to Kenneth, attempting to upstage Angi on her own reality show, filming a dubious horror film designed to promote tourism in Connecticut, duping Carvel for free ice cream cakes, or navigating her relationship with cross-dressing boyfriend Paul (Will Forte), Jenna was somehow simultaneously the most ridiculous and most hilarious part of this season of 30 Rock.
Best Supporting Actor
Donald Glover (Community)
Neil Patrick Harris (How I Met Your Mother)
Dule Hill (Psych)
Jack McBreyer (30 Rock)
Nick Offerman (Parks and Recreation)
Jason Segel (How I Met Your Mother) *
This category nearly ended in a mental three-way cage match for me. In one corner, Donald Glover, who is arguably the biggest break-out star from Community and having a banner year. In another corner, Nick Offerman, who plays gruff uber-libertarian boss Ron Swanson to mustachio'd perfection. But the ultimate winner had to be the underdog, Jason Segel as Marshall Erikson on How I Met Your Mother.
Understandably, both Josh Radnor and Jason Segel have tended to be overshadowed by Neil Patrick Harris' performance as Barney. It's a pretty damn fine performance, and it certainly was strong this year as Barney struggled through meeting his father and reconciling his self-image as a ladies man with his growing desire to find the right girl and settle down. Heck, the entire cast gave great performances this season. But by far the most amazing performance, for me, was Segel's portrayal of Marshall as he struggled with losing his dad, re-starting his quest to become an environmental lawyer, and coming to terms with his and Lily's apparent inability to get pregnant. Instead of Segel's usual bombastic and exuberant performances that made me fall so heartily in love with Marshall as a character, he effortlessly switched into a quieter, more mature one that often left me, at the end of an episode, sobbing desperately into my pillow, and then chuckling, and then muttering expletives around my hiccups because dammit, Jason Segel, I never gave you permission to make me have so many feelings.
Best Lead Actress
Courteney Cox Arquette (Cougar Town)
Tina Fey (30 Rock)
Martha Plimpton (Raising Hope)
Amy Poehler (Parks and Recreation) *
Yes, you saw that little asterisk right. You thought for sure I'd predictably always choose Tina Fey to win every award she's nominated for didn't you? Well, hah! I like to keep you on your toes.
Look, it's not that Tina Fey (or any of the other nominees) weren't great, because they were. It's just… damn, you guys saw how amazing Amy Poehler was in Parks and Recreation, right? Maybe if I considered every single season of 30 Rock versus every single season of Parks and Rec I would (though only if really forced to choose) go with Tina Fey. But just because I'm not constantly discussing my love of Amy Poehler doesn't mean she's not also an actress/generally hilarious lady hero who I support with a rabid and devoted intensity. And when it comes down to it and I just look at this season, Amy Poehler's Leslie Knope far outstripped any of her competition.
Best Lead Actor
Steve Carell (The Office) *
Alec Baldwin (30 Rock)
Lucas Neff (Raising Hope)
Joel McHale (Community)
This, oddly enough, is the one category I'm mostly ambivalent on. Sure, I like all these guys, but I'm not super-passionate about any of them. So for that reason, even though I no longer watch The Office, I wanted this award to go to Steve Carell for his last season as Michael Scott. It's criminal he hasn't won for that role yet, it's his last chance to do so, and according to my friends who do still watch, apparently he was so magnificent that if he doesn't scoop up the Emmy, they will burn Utica to the ground.
Best Comedy
30 Rock
Community *
Cougar Town
Happy Endings
How I Met Your Mother
Parks and Recreation

And here is where we get into the very worst Sophie's Choice-esque dilemma of them all. Who takes the ultimate prize? Who overall had the very best season to beat out the competition? As I agonizingly crossed out each comedy (which was like a dagger to my heart), it came down to two shows who, in my view, had what I would consider to be near-flawless seasons of comedy — Community versus Parks and Recreation. And in the end, I had to give it to Community.
Do not get me wrong, Parks and Rec was an extremely close runner-up. Each episode clearly benefited from being reflected on and polished and re-polished during the half-year hiatus. But not only did Community have a full season of nearly equal quality, but the sheer scope of what that show accomplishes astounds me. There is no genre or trope that is safe from them, no issue they don't tackle (with little or no sensitivity, which is somehow both wildly offensive and guiltily delightful), no comedy rock they leave un-turned. And yet they somehow manage to never lose track of the character arcs in their central group, never sacrifice character growth for the sake of just wanting to be funny, which is a rarity most comedies struggle with.
Parks and Recreation, when you get down to it, is a sweet show. It's small and localized and very intimate, and that is part of its charm. But when given the choice between heartwarming and funny, it goes for heartwarming. And this is not a flaw. Shows like that not only should exist, but need to exist. Parks and Recreation is like your soul snuggling with a kitten for a half an hour a week. But this is an award for best comedy, not necessarily best show, or most feel-good experience. And when it comes to pure laughs? There is nothing on television that compares with the innovative genius that is Community. It is, as I believe they say, streets ahead.
(And if you have to ask what that means, you're streets behind.)
Photo Credit: Academy of Television Arts and Sciences