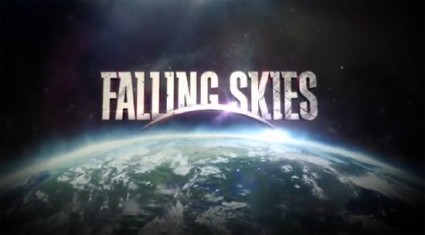 Whoa, boy. Here we go again.
Another doomed alien shoot'em-up sci fi invasion adventure human interest drama vehicle thingy destined to pull us in and ultimately disappoint us ala The Event or Heroes or … well, you name it.
Or is it? You may be surprised. Falling Skies promises something not expected. And not only does it do that, it delivers.
I got a hint of what it was all about during a preview at last year's San Diego Comic-Con as well as some spiffy back and forth courtesy of Noah Wyle (ER) and Moon Bloodgood (Terminator Salvation, et al) at the panel Q&A session. Interestingly, there was a smarmy air about Wyle I couldn't put my finger on as he told what he could about the show. It was Mr. Wyle who was the first thing about this new TNT series which made me sit up and take notice, surprising as I was never a fan of him or of ER.
For those of you not fortunate enough to have been at Comic-Con for the panel, the obvious question is this: "What is it about Falling Skies that will hook me?" No spoilers here, but I will state there's less emphasis on the sci-fi (*glares in the general direction of the SyFy network*) and more on the human element (this isn't news, folks) in a different manner than programs such as, say, V works into itself. There are those of you out there intrigued by such a prospect and — as one of those people myself — it's something well worth being anticipatory about. And that intrigue will start right off the bat with the premiere, picking up not at the alien invasion but 6 months down the line with the hangers-on well into survival mode.
I want this mechanism of storytelling to work right off the bat. I want it to set up successive episodes crisply and cleanly and leave me clamoring for more. I already have my answer as to whether this happens or not, but I leave it to the viewer to discover this on his or her own. Having seen several episodes of the series already I have inklings where it's going. It will be fun to see if what I believe aligns with what others think and how it ultimately rolls out.
And let me tell you something: It ain't The Event.
So is this another "Here we go again" science fiction vehicle? No. It isn't. That's why I'm ready to do this thing.
Yeah, I know: this sounds awfully familiar to what I predicted in my review of The Event last year. But the producers of Falling Skies have the benefit of time on their side and will have learned from that program's mistakes. *fingers crossed*
Let's get to gettin'.
Photo Credit: DreamWorks Television