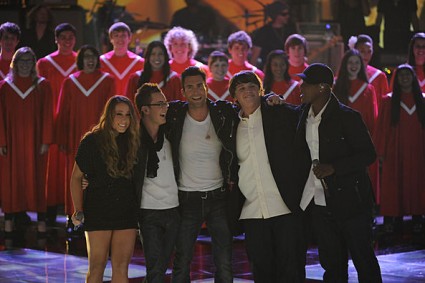 Ladies and gentlemen, may I present to you my team, and my coach — so I guess it's about time I admit that The Voice has become my show.
Tuesday night's second quarterfinal was one heck of an outing, that's for sure. There were the usual amount of soundbites and jokes to chew on. But let me tell you something: being in the middle of it, and getting up close and personal with the people, gave me an even greater appreciation for everything — one that transformed this from a guilty pleasure to something I can embrace with open arms.
Let me take it all in chronological order.
Things started off on a personal high note: I began my evening standing about five feet from Adam Levine. He had to leave before I had a chance to talk to him, but at least I saw one of my heroes in the flesh. Fingers crossed that we get to meet next week. At least I know he'll be back next season; when someone asked about that, his response was a gleeful "Hell yes." And as long as he's around, I'll be around.
The show proper opened with Carson Daly revealing which two members of Team Christina were advancing to the semifinals. Was anyone shocked that they were Beverly McClellan and Frenchie Davis? Well, Beverly, who was floored to find out that she had earned America's vote. When I met her after the show, she was still holding the envelope that contained her name. I know I haven't quite raved about Beverly's music like others have, but I can't say enough good things about her as a person. She is as sweet, loving and humble as her cohorts have said. We may even have done a few notes of Maroon 5′s "This Love"…
Team Cee Lo batted leadoff, in the persons of Tori & Taylor Thompson. I didn't agree with the twins moving past Kelsey Rey in the battle rounds, and their cutesy version of "Boogie Woogie Bugle Boy" didn't change my mind. If you want to know my reaction to it, just watch Adam's reaction — it's the same thing. I feel comfortable in saying the twins will be sent packing next week, and I'm at peace with that.
Following the duo was Casey Weston, and I admit I set the bar pretty high for her. Not only did I want her to prove she belonged there after knocking out one of my early favorites in Tim Mahoney, but she performed a song that I personally dislike (KT Tunstall's "Black Horse and the Cherry Tree"). Casey's initial attempt at the song wasn't anything special, but Adam advised her to give it a little more punch, and lo and behold once she found that, it worked. (Although I found myself ambivalent toward the "Blue Man Group," as Blake Shelton referred to them, behind her.) Casey is an example of how the coaches of The Voice really are helping to shape the talent; she's a good artist on her own, but Adam helped her become better. It's almost as fun for me to watch these guys and gals evolve as it is to watch them perform.
That trend continued with Team Cee Lo's Vicci Martinez, who took Dolly Parton's "Jolene" from a song that I turned off to one I downloaded. I was still trying to feel Vicci out during her battle round, but with that growling, stage-owning, raw performance I finally got what the coaches see in her. I also give her bonus points for not lighting herself on fire with the arrangement of flickering candles set up across the stage.
Then we came to Team Adam's Devon Barley. After his impressive battle round performance, I was curious to see if Devon could continue his hot streak or if "Creep" was a fluke. I was really glad to hear it wasn't. OneRepublic's "Stop and Stare" was a great fit for his voice; he's not Ryan Tedder, but he's not that far removed. Most importantly, Adam encouraged Devon to get out from behind the mic stand and find his confidence, and he did that. The moment he left the mic stand behind, I did cheer a little. Hopefully, with this performance under his belt, Devon will continue to build his confidence and develop into an even better performer. With Adam's team members, I can really see the fingerprints of his coaching on their performances, in a respectful way that doesn't change who they are. Just another reason I'm all for Team Adam.
And here's where the crazy train started to leave the station.
Christina went on another ramble that caused Cee Lo to lose his train of thought. While that was going on, Adam exchanged some testy words with Carson, who asked about his Monday night appearance on The Tonight Show. Adam wasn't thrilled that Carson was making more of certain phrases than there really was. "Carson Daly, what are you doing? You're starting fires," he admonished, before explaining himself and then swiftly turning the talk back to Devon. My feelings toward Adam aside, props to him for avoiding unnecessary drama and keeping the focus where it should be.
After that mildly uncomfortable moment, things took an abrupt turn, when we met Team Cee Lo at a local day spa. It was a bit amusing to see everyone in bathrobes and getting massages, but nowhere near as hilarious as the group's rendition of the 70's hit "Everyday People." There was a lot to talk about — but not much of it had to do with the music. Instead, I was unable to stifle my laughter at Cee Lo's afro wig, the Partridge Family vibes, and the fact that Curtis finally ditched his cowboy hat. I felt badly about this until I realized that Adam and Blake were likewise in stitches; I'm surprised that Adam didn't fall out of his big red chair. The number might have been totally out of left field, but it did keep everyone entertained, if nothing else.
If only things hadn't gotten weird again. A fan tweeted asking Jeff Jenkins about his popularity with the ladies, to which Jeff jokingly replied, "I'm still waiting on that legal Thompson sister." Cue an uncomfortable-looking Carson, who admitted "I can't believe he just said that." You have to feel for the guy: we've done two live shows now and both times, someone's said something crazy that he has to deal with.
What did we get after that? Nakia singing a song called "Sex on Fire." I can't make this stuff up. All I really have to say about Nakia is that he completely owns David Caruso in the "doing dramatic stuff with sunglasses" category.
Jeff came back to perform Carrie Underwood's "Jesus Take The Wheel," which he explained in his rehearsal video was significant to him due to the passing of his mother. You can't teach that kind of emotional connection, and I felt it come through in the music. What Adam did do was continue to challenge his team, suggesting that Jeff raise the key of the song, which Jeff felt plenty nervous about. It paid off, though, as Jeff rose to the occasion and delivered. There was a bit of a heartfelt moment … until Christina proved she hadn't entirely been paying attention and asked Jeff what the story behind the song was. Ah, dear, he explained that to Adam in the video you saw just a few minutes ago. On top of that, Adam was visibly thrown off-guard when Carson skipped from Christina directly to him, forgoing comments from Blake and Cee Lo. The misadventures of live TV, folks!
Now we come to the moment I'd been waiting for: the feature about my team. I learned that Adam has a really cool house, and thinks of his team as friends that he doesn't want to lose touch with. Yes, I totally melted for a moment. I expected the team performance to be awesome, and it was; I really bought them as a vocal group, as opposed to a handful of solo artists who happened to be together for a song. I do have a problem, though, and it was with the choir behind them. For one, I never thought I'd put the phrases "Adam Levine" and "choir" in the same sentence. But seriously, the presence of the choir drowned out the team's harmony at points, which bugged me. That aside, I loved the song choice (The Beatles' "With A Little Help From My Friends"), because it really embodied the team's philosophy, and how they see one another. It was fun and uplifting, and I enjoyed it, even if it wasn't perfect.
Curtis returned, hat back in place, to attempt a country version of Robert Palmer's "Addicted To Love." I say attempted because it didn't work. Rehearsal footage told us that the song was Cee Lo's idea, and Curtis was a little uncomfortable with it. He had reason to be. I never liked the original, but at least it had an energy and a swagger to it that Curtis didn't bring. I'm not sure what Blake was talking about either; it didn't so much look like Curtis slammed his guitar as it did that it fell off or at least, unceremoniously dropped. Nothing cool about that. The critique portion actually got worse as Curtis had to reference Christina's inappropriate comments to Patrick, starting her off on a giggling dialogue with him that led Carson to remind her to focus. The only thing I got out of this was Adam's comment that "I'd look like an idiot if I wore a cowboy hat," which only made me want to see that happen.
Color me totally unsurprised that Javier Colon got to finish out the night. Every show wants to go out big and you can't get bigger than the guy that everyone loves. He was great again with his rendition of Sarah McLachlan's "Angel," excepting one vocal run I don't think he needed to do, but the roar of applause from the crowd reaffirmed for the billionth time that he's got plenty of love out there, including amongst his cohorts, many of whom told me that they felt he was their biggest competition. My only worry with Javier is whether or not his consistency will be toppled if someone has one breakout week …
… not unlike Dia Frampton, whose jaw-dropping performance earned her America's vote to represent Team Blake. The other spot in the semifinals — after Blake majorly struggled with it — went to Xenia, a decision which elicited shock in the moment but made more sense to me in retrospect. We know from last week that Blake really sees something special in Xenia, and if he's looking to "effect change," she is the most unique choice. I'm happy that I got to meet her post-show, so we could talk about representing our hometown and how we both started our careers at a young age. Seeing something of me in her, it was good to finally connect with her.
In fact, I appreciated getting to meet everyone. They're all so positive and so kind, not just to one another but to us press interlopers as well. They made me feel right at home. (For the record, Patrick Thomas is the most gracious loser I have ever met. Ever. And I don't even come close to Curtis Grimes' shoulder.) It's a pleasure for me to be involved in something that's full of so much love, humility and positive energy. Just speaking for myself, I know that next week is going to be gutwrenching, because I really do love each member of Team Adam and I don't want to see any of them leave.
And this has gone beyond the television show. It's easy to lose stock of the fact that we're not just watching a TV competition, but we're dealing with real people's lives, careers, and dreams. Casey told me that after she performed with Adam, her father hugged her and told her that he'd never forget that moment. I completely understood where he was coming from; even for me, sitting on the sidelines, I can think about things I've taken away from The Voice that will stick with me forever. And experiences like these are the reason why I do what I do.
I would have never fathomed this in a million years, but this has definitely become my show.
Oh, I almost forgot … on my way out (I was there so late that they were turning the lights out on me!), I did run into Michael's best friend himself, Mr. Carson Daly. Don't worry, Michael, I didn't tell him how much you love him.
Next week, The Voice whittles eight down to the final four, Adam and Christina debut a new song together, and I try once again to meet one of my heroes. How well will any of this go? You'll just have to wait and see.
Photo Credit: NBC