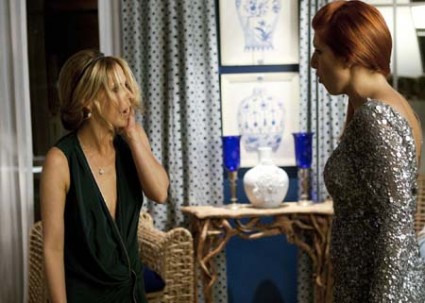 Forty minutes into tonight's Ringer, I was ready to give up reviewing the show and move it to the catch-up-on-the-weekend slot on my DVR. That was until the last 30 seconds. Wow! Given the slow pace of the series so far, I definitely did expect to hear Bridget say this, "I'm not who you think I am. I'm not Siobhan. I'm Bridget." I like the potential partnership that Bridget and Gemma can have together. Though, from the preview, it looks like that will not come easy, if at all.
Up until Bridget blurted out those words, I was bored. I don't understand where the story is going and that bothers me. Why does Siobhan hate her sister so much? I'm guessing it has something to do with Sean, but how can she hate her enough to kill her own twin? From the flashbacks, that doesn't jive. While Siobhan is clearly upset with Bridget, she has always appeared deep down to care about Bridget.
In Paris, Siobhan is on a mission that looks to be about money and she is using Tyler Barrett (Justin Bruening) to do it. I don't like Siobhan and to be honest, I don't care what she is doing. I wonder if the show would have been better if she had actually died. We haven't been given any explanation about why she is framed her sister, disappeared, who she is working with or anything about her end game. Now that we have seen movement in the stateside story with Bridget, I hope we see more explanation on the other side of the ocean.
Bridget's reveal to Gemma is enough to bring me back for one more week; I hope that isn't a mistake. Was it enough to keep you interested?
Other stuff:
I didn't miss Malcolm at all. If he isn't there to support Bridget, I'm not sure why he is part of the story. Will Macawi kill him?
When Gemma overheard Bridget and Henry talking, I was disappointed. I thought …. really? But, the show surprised me.
An episode without Olivia … yes, please more!
I like Tyler Barrett. I'm not sure if it is more because of the character or Justin Bruening, but I hope he sticks around. Well, and that the nice guy isn't screwed over by Siobhan.
The birthday necklace was a nice touch to show us the sisters growing up and to show their feelings after they had a falling out.
Photo Credit: The CW