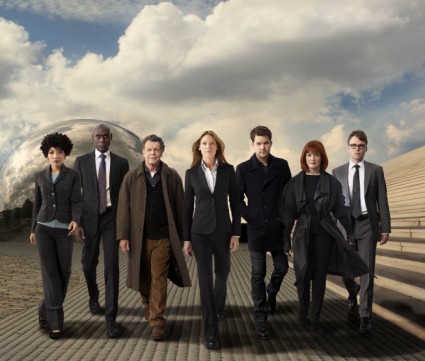 It's panic time for some TV fans! Will your favorite shows make the cut and get renewed for another season? The networks have already picked up quite a few favorites. Unfortunately, fan favorite Fringe has not received an early renewal like it did last year. Will it survive the cut to see a fifth season? I sure hope so!
CBS has already picked up most of their series for next year, including: 2 Broke Girls, The Amazing Race, The Big Bang Theory, Blue Bloods, Criminal Minds, CSI: Miami, CSI: NY, The Good Wife, Hawaii Five-0, How I Met Your Mother, The Mentalist, Mike & Molly, NCIS, NCIS: Los Angeles, Person of Interest, Survivor, and Undercover Boss. 
FOX has renewed: American Dad, Bones, The Cleveland Show, Glee, Kitchen Nightmares, New Girl, Raising Hope, The Simpsons, and The X Factor.
And, NBC has renewed both Grimm and Smash. Neither ABC or the CW have announced any early renewals yet.
Last year, V won our Curb the Cancellation poll by only 1% over The Chicago Code. Unfortunately, both of those shows were cancelled. Hopefully, we will have better luck this year and save a show!
I gave my fellow Clackers the list of shows that are on the bubble. Check out our picks, then vote for up to three shows you'd like to see back next season. The top shows will move on to the finals next week.
Carla: I like way too many shows on the brink of cancellation this year. I'd love to see both Fringe and Alcatraz get renewed. It would be perfect if Fringe got a short season pickup and then Alcatraz could take over its Friday spot at midseason.  Nikita is my favorite spy show. It is consistently well-written and full of action. Then, there is Hart of Dixie — if it was cancelled, I'd miss my weekly visit to Blue Bell, AL.
Julia: Honestly, the only thing worth saving on this list is Cougar Town, which I feel like is redundant to sing the praises of. I think it's pretty dead, since two of the cast members have already signed on to new pilots, but I sure am going to miss Wine Time and the Cul de Sac crew.
Deb: I've got to agree with Julia — Cougar Town is the only show I'll miss from that list, though likely Fringe and Nikita would be two I'd miss if I watched them. And that is probably the sentence that you will read today that will make the least sense.
Ivey: Personally, I think there are several things on this list that are "worth saving," but that's probably because I watch more than just one or two and won't dismiss the rest of the list out of hand. If Fringe is really on the bubble, then that would get my vote. It's one of those rare shows who's quality has increased over the years instead of the other way around.
Brittany: The only one I'm invested in is Nikita, which I will defend with the admission that its second season has been uneven, from me being terribly excited to shocked at how terrible it can be. That said, it has always had fantastic action sequences and I think its cast is truly underappreciated. In all the action, it gets easy to overlook some great work from the cast, who have all markedly grown into their roles since season one.
Chuck: I'm enjoying GCB, and it would certainly fill the void left by the end of Desperate Housewives (even though Marc Cherry has a new show in the works called Devious Maids). Each episode has a few good laughs, and the cast is amazing. So I hope this gets another season.
The only other show I watch religiously that's on this list is Fringe. I just think they have a lot more story to tell, and I'd really miss this group of actors. I've grown to appreciate Anna Torv's talent from season to season, and all the different aspects she has to bring to the various versions of Olivia (and I still think she deserved an Emmy nomination for playing Leonard Nimoy). John Noble is also terrific at playing both the addled Walter and the sinister Walter-nate. I love all the twists and turns in the story and I would really miss this particular hour of television the most from this list.
Michael: First of all, Julia is dead wrong. Cougar Town is not "the only thing worth saving" on this list. But wait … let's suspend that and go on to a more important thought for a moment. …
What list are you looking at that has Bob's Burgers up for cancellation? Beside the fact it's wonderfully delicious and nutritious and an "Ivey approved" selection of wonderment that spews quotations and blurbs out the wazoo each and every time it airs, I was recently on a conference call that denoted from the creator his ownself — Loren Bouchard — we're not only in the beginnings of season 2 but a season 3 is coming down the pike as well come the fall.
Kim: The only two on this list I watch and care about are Fringe and Bob's Burgers. Fringe manages to intrigue me every season and if this is its last season, I hope they at least tie up all the loose ends and give it the dignified ending it truly deserves. I will miss it for sure. Bob's Burgers is the only part of Fox's "animation domination" I can stand. I love The Simpsons and will always have major respect for its many laughs and accomplishments, but it hasn't been as funny to me the past couple years. That's my two cents, anyway.
Tara: The only one of these I've seen on a regular basis is Body of Proof. (Yeah, I know that's a rather weird choice for me, but my husband watches it so I go along for the ride.) I like it. I don't think it deserves to be cancelled. Dana Delaney doesn't even have to hold it up. The situations are unbelievable, sure (consider the latest viral outbreak of last week). But the intricate things the MEs find in the morgue that lead them to solving the whole deal tidily in the last eight minutes leave me feeling I haven't wasted my time. The writing ain't so sloppy. The cast is pretty strong. Therefore, that's my pick.
Keith: I, too, am on the Cougar Town train. I liked the Missing pilot, but I don't know how it was after that to comment.
Those are our picks! Vote for up to 3 of your favorites to move on to the Curb the Cancellation finals next week! You can vote once a day through Tuesday, April 17th at Midnight PT.
Photo Credit: FOX