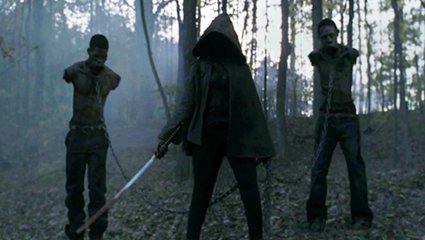 CABLE - Of course, the big news was the big finale of The Walking Dead (8.99m/4.7). I'm going to go ahead and give it top billing because that 4.7 demo beat everything on ABC, NBC, and CBS. The only show topping 4.7 was the Wednesday edition of Idol on FOX. To call it a success would be a grand understatement. At this point, mind-boggling is probably a better description of the Walking Dead numbers. Dancing With The Stars, The Voice, Two And A Half Men, NCIS, Thursday Idol… they're all looking up at The Walking Dead. Crazy.
And it makes next week really interesting. Those 9 million viewers were hit on the head with the Mad Men hammer again and again. How will the success of Walking Dead play out where Don Draper is concerned? I would expect a small boost. But at this point I think the Mad Men audience is what it is and the more realistic goal is matching the Talking Dead (4.3m/2.3), not Walking Dead. Elsewhere, flying solo wasn't pretty for Monster Man (.75m/.3). Perhaps that should have been paired with Face Off all season?
Basic
Army Wives (2.83m/.9)

Breakout Kings (1.59m/.7)

Pretty Little Liars (3.69m/1.6)

Being Human (1.43m/.7)

Lost Girl (1.09m/.4)

Justified (2.32m/.9)

Southland (1.69m/.5)

Psych (2.73m/1.1)

The Game (2.38m/1.2)

Let's Stay Together (1.94m/1)

South Park (2.31m/1.3)

Hot In Cleveland (1.45m/.3)

Happily Divorced (1.25m/.3)

Archer (1.33m/.8)

Unsupervised (.51m/.3)

Comic Book Men (1.35m/.8)

Project Runway (2.41m/.8)

After The Runway (1.37m/.4)

Premium
Shameless (1.16m/.6)

Eastbound & Down (.73m/.4)

Californication (.64m/.4)

House Of Lies (.62m/.3)

Luck (.46m/.2)
ABC - While not matching The Walking Dead, the return of Dancing With The Stars (18.75m/3.5) was a welcome one for ABC. As with Idol, the show is no longer the powerhouse it once was, but it's still a huge hit, leading the network in viewers and demo. And, of course, giving a boost to Castle (11.52m/2.3). Earlier in the week, Once Upon A Time (8.69m/2.9) remains strong, Desperate Housewives (9.03m/2.6) is going out on a good note, and GCB (6.07m/2) is staying ahead of the Pan Am plane crash.
Tuesday remains the biggest problem, with Last Man Standing (6.98m/1.9) slipping as we head into spring, and Cougar Town (4.38m/1.6) failing to find any traction. They were joined by what was undoubtedly the series finale of The River (3.99m/1.4). The rest of the week included rather iffy solo performances for Happy Endings (4.1m/1.8) and Missing (8.81m/1.6).
FOX - As always, the week was powered by American Idol (17.21m/5.1 – 15.58m/4.2). But there was more good news, with the time-period premiere of Touch (11.81m/3.3). That's not exactly hitting it out of the park, but with nothing else on the network breaking into the 3s, Touch is the current darling of the lineup. After a fairly normal Sunday of Simpsons (5.25m/2.4), Bob's Burgers (4.4m/2.1), Family Guy (5.61m/2.8), and American Dad (4.61m/2.2), the cracks in the armour started to show.
Monday is just broken. House (5.94m/2.1) is ready to retire, and Alcatraz (5.04m/1.6) is not qualified for the job. Bones will enter the fray in two weeks, but I'd be surprised if it could even manage a third place finish in that spot. Tuesday is also troublesome, with New Girl (5.18m/2.7) suffering some spring duldrums while Raising Hope (3.78m/1.6), I Hate My Teenage Daughter (2.92m/1.2), and Breaking In (2.84m/1.3) don't even measure up on the NBC scale. And Friday is just Friday. Kitchen Nightmares (3.06m/1) and Fringe (2.88m/.9) continue to not be the answer to that particular question.
CBS - Things really are going well for CBS right now. As evidence, an off week where the network gave up two nights to basketball still finds six shows finishing in the 3s — How I Met Your Mother (8.15m/3.5), 2 Broke Girls (9.38m/3.5), Two And A Half Men (11.47m/3.8), Mike & Molly (9.71m/3.1), NCIS (19.05m/3.4), and Criminal Minds (12.09m/3.2). Of the rest, Amazing Race (9.54m/2.7), Hawaii Five-O (9.31m/2.5), NCIS LA (16.17m/2.8), Survivor (10.47m/2.8), and CSI (11.38m/2.1).
Basketball was just ok (6.81m/2.1 – 6.29m/2.4), but will probably pay off when they get the National Championship in prime time. The only real trouble spots came from Unforgettable (11.32m/2.1), The Good Wife (9.58m/1.9), and CSI Miami (8.54m/1.8). Given that The Good Wife has already been renewed, it's looking more and more likely that the 11 million Unforgettable viewers are going to be tossed because the network simply can't renew everything. And in Horatio's defense, that episode of CSI Miami did start 40 minutes late.
NBC - The resurgence of Community (3.87m/1.7) ended rather quickly, with week two falling to the level of previous disappointments. If you're a fan and you don't want NBC to do the sensible thing and wash their hands of this mess, you have two things to hang your hat on. First, the recently announced syndication deal that makes more episodes a very lucrative thing. And second, the fact Sony has a history of cutting sweetheart deals with the networks to keep a show on the air. Finally, a reason to be thankful for four years of 'Til Death!
That led off a week of comedy that was worse than usual for two reasons. First, 30 Rock (3.31m/1.5 – 3.42m/1.6) filled in for The Office. And that was never going to go well. Making things even worse was the premiere of Bent (2.75m/1 – 2.38m/.8). Yikes. Those are premiere numbers. But I also really have to question the thinking over at NBC on this one. If they are going to go to the trouble of taking the show to series, why premiere it coming out of the worst comedy on the schedule, Chelsea (3.47m/1.4)? At least give it a one-off shot after The Office. It's not like Up All Night (3.25m/1.5) is doing anything to warrant that protection. Putting the final mark on the state of comedy on NBC, Whitney (4.18m/1.6) is the most watched show.
Things are only marginally better on the drama front. Smash (6.56m/2.2) seems to be steadying. And considering that there are only 3 shows on the network that aren't below 2 in the demos, you have to call that a win. Harry's Law (7.79m/1) and Awake (4.73m/1.2) on the other hand, are probably more trouble than they are worth. Unscripted remains the strongest part of the schedule. The Voice (11.95m/4.6) was slowed by the dancing stars, but still only trails Idol in the demo. Biggest Loser (6.76m/2.3) is down, but still better than pretty much everything else on the schedule. And even Fashion Star (4.76m/1.8) had some good news to report. Still an iffy number, but it did buck the trend, making gains in week two. That's at least enough to suggest we wait and see where this one is headed.
CW - With week after week of numbers from the CW one thing has become clear. This is the fall schedule announcement I'm most curious to see. Considering the numbers, The Vampire Diaries (2.69m/1.3) is the only show that should be considered safe. And while it's highly unlikely they'll go with the 'burn the fields and salt the land' schedule policy, you have to wonder, could it get any worse? 90210 (1.25m/.7), Ringer (1.16m/.5), One Tree Hill (1.5m/.8), Next Top Model (1.25m/.6), Secret Circle (1.72m/.7), Nikita (1.56m/.5), and Supernatural (1.57m/.9) all continue to struggle at making a case for another season.
Photo Credit: AMC