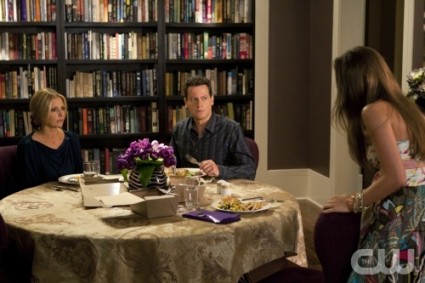 Tonight's Ringer, "A Whole New Kind of Bitch", was being sold as a game changer. It's only the fourth episode, so that would be pretty soon to change the game already. I haven't been sold on the show so far, so a game changer could be a positive thing. That was until Gemma said she had to tell Andrew something that was a game changer. Really? Her reveal was less than stunning, so that didn't leave me with much hope for the show.
Even though there was no Siobhan in France or Agent Machado, the episode was jam-packed with lots of revenge and blackmail. I'm not sure what to make of Juliet. She hates Siobhan because she slept with her father while he was married and that's why she was acting out? That seems odd to me, since she was acting out while at school. I can understand her not liking Siobhan and am personally familiar with a similar situation; that anger can run deep. While her feelings were legitimate, her actions did deserve punishment. Will she figure out the truth about NA? I'm not sure how her story fits into the overall show, but it had a nice balance to the Bridget-Gemma story.
Gemma oh Gemma what have you done? I understand her feeling betrayed by Siobhan, but I'm not sure why she decided to take it out on Bridget. The back and forth conflict between Bridget and Gemma was entertaining to watch, but didn't necessarily make sense. What would Gemma have to gain by telling Andrew the truth? Blackmailing her into sleeping with Henry was such a desperate thing to do. I guess this is a case where an angry, betrayed person can't see the bigger picture.
That brings us to the big "game changer" at the end … is Gemma dead? Did Henry kill her? I hope that he did, because a fake out at this point would be irritating. At the same time, I'm not thrilled with the perspective of another murder, cover-up, and of course … another secret. How much can the show pile on before it is too much? I think we are already there!
On a side note, we have the whole Macawi taking Malcolm prisoner and getting him hooked on drugs again story. After all the torture, he is still holding out. That is a sign of his love and friendship for Bridget. Was he killed too? This is another part of the show that doesn't seem to have a point. I hope that it does and it gets there fast.
Every week, I'm more irritated and bored with the show than I'm anticipating the next episode. For some reason though, I keep coming back. I guess I hope it will get better and don't want to miss out when that happens. In the meantime, I'll sit in anticipation for the best intrigue show on right now  — Revenge.
Photo Credit: The CW