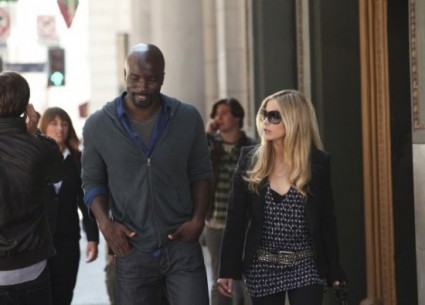 Bridget is one lucky gal in her current scheme. Just when you think she is in a no-win situation, she pulls it off. Last week, she got away with telling both Andrew and Henry about the existence of Bridget without any ramifications. The episode ended with her about to have a sonogram … only she wasn't really pregnant.
How would she possibly get out of this one? The episode began with the doctor not seeing anything on the sonogram and one little mention of spotting the previous week — Bridget's troubles go away. No more baby. Yes, Bridget has had a difficult past and a drug dealer wants her dead, but she's had some luck to keep her ploy as Siobhan going.
It looks like her sponsor and possible lover, Malcolm, is in New York to help her. Or, will he out her inadvertantly instead? Since he was able to withstand torture and drugs to protect Bridget, he has to be on her side now. Though, I'm nervous now that he is at the enemy, Charlie's house. That could be their downfall.
I'm beginning to think that Charlie may not be as bad as he seemed at first. I don't think Gemma is dead. I don't know where she is, but I'm guessing she is alive somewhere. Perhaps, she's in a hospital or mental institution.
I'm not sure where they are going with Juliet and her teacher. I was happy to hear Jason Dohring was joining the cast, but I don't want to see them go down the teacher-student sexual relationship path. This show has been full of unexpected twists and I hope it reaches to this story as well.
A romance I would like to know more about is Siobhan and Henry. Does she really care about him? She must, otherwise why would she have his picture in her bedside table and look at it lovingly? I'm not sure why she wouldn't let him in on her plan though.
The transfer papers that Siobhan stole from Tyler, ended up getting him a promotion and busted her secret as Cora. Siobhan's in trouble now. Her money train has been cut off, but she probably has her own source of money by now. I wish we had just a little more insight into her plan. We don't need to know the whole thing, but a tease would be really nice.
Now that Tyler has dumped her, perhaps, she will let Henry in on her plan.
Tyler said, "I didn't realize I was sleeping with the boss's wife. Is that why you told me your name was Cora?" Will Bridget wake up in the middle of the night and realize that Tyler was talking about Siobhan — her undead sister?
Photo Credit: The CW