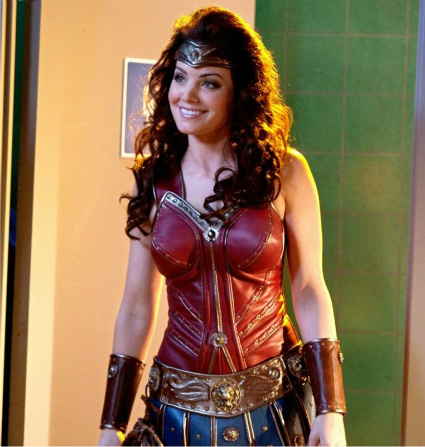 If there's one thing we do exceedingly well around the hallowed halls of the luxuriant CliqueClack offices, it's beat things to death.
But there's one thing that just doesn't want to seem to stay dead: Wonder Woman, Warrior Princess of the Amazon.
We've riffed and sniped and joked and discussed and raged and round-housed about the character and the script and the defunct show ad nauseum. (It's an equally fun and exhausting read if you flip through all the posts we've written. We love jabbering about Wonder Woman about as much as you like hearing what we have to say about her.) But still it's not enough.
Now comes Harry's Law — the David E. Kelley / Kathy Bates vehicle — wherein fan-favorite Erica Durance (Smallville) will be guesting as Diana of Themyscira.
Well … in a manner of speaking.
It looks like many of us will be getting our wish granted, seeing Durance ("easy on the eyes, hard on the ears" as one person noted) don the duds of  the defending dame of DC.
And this I promise: As long as there is news of Wonder Woman making the rounds, a few of us will be warming up the machinery at CliqueClack's personal glue factory.
Photo Credit: forums.superherohype.com