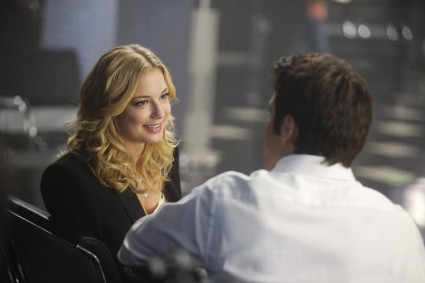 This week, we at CliqueClack are asking you to vote for your favorite new fall shows to watch and for those that you would recommend to others. The winter hiatus is the perfect time to catch up on new shows you didn't initially watch. Julia shared her thoughts on Up All Night, now check out why Bob picked Revenge!
Here at CliqueClack, we're taking a look at all the new shows on television and figuring out which ones we think are best. As part of the series, I'm going to highlight my favorite new drama of the year: Revenge. Yes, it's a little campy, there are few annoying characters, and it's maybe not quite as tight as it could be. With all that being said, though, it's a fun romp through the Hamptons — there's mystery, intrigue, love triangles, murder, and comeuppance galore. What more could you ask for?
If you are unfamiliar with the show, it follows the quest for revenge of the main character Amanda Clarke (now going by Emily Thorne). Her father was framed as a terrorist and after her own stint in juvenile hall, Emily is looking to get revenge on all the people who helped to set up her father, ruining one crooked life at a time. The prime target is the Grayson family, the most rich and powerful clan in all the Hamptons (of course).
Revenge has a lot going for it. The cast is very good. Emily VanCamp is good in the lead role, and Madeleine Stowe is in top form as the cruel and calculation "queen" of the Hamptons, Victoria Grayson. If you're a shipper, there is plenty of fodder for you here. Emily is caught in the beginnings of a love triangle, as she seduces the son of the Grayson family, while pining for her lost childhood love who is now running the local bar.
You want mystery and intrigue? There's plenty of it. There is much about Emily/Amanda's past that is only starting to be revealed. It seems with each new episode we learn more about how she went from juvenile detention to the Hamptons. We still don't know the full story surrounding Victoria's involvement in the framing of Emily's father. We have seen that she was intimately involved with Emily's dad, but the exact events surrounding his incarceration are still to be revealed. That's not all! The very first episode began with a glimpse into the future, with the death of Emily's brand new fiancé, Daniel Grayson. More mystery!
The best part, though, is that the show is not dilly dallying. The mysteries put forth in the opener are going to come to pass at about the halfway point of the season. The writers aren't even waiting until the end of the season to reach that ill fated engagement party. So many viewers seem reluctant to get involved with shows with mysteries for fear of being strung along. No worries here.
Add in a fun group of secondary characters, many of them scheming to some extent in their own right, and you have a setting for a drama that always has something interesting to offer. Revenge is fast paced, doesn't take itself too seriously, and most importantly, it's fun to watch. Give it a try.
You can vote up to

ONCE a day

for

3 shows

. The poll closes on

Sunday, 12/4 at Midnight ET.
Photo Credit: ABC