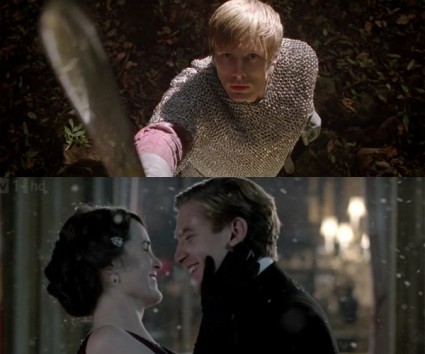 Hello, everyone. How were your holidays. Good? Mine were great. I got lots of fantastic presents, ate far too much dessert, visited with a lot of people, and watched a whole lot of British TV. Specifically, there were two season finales that aired across the pond — Merlin and Downton Abbey. And while I know it's not really fair to Merlin to compare it to a show that's won every award under the sun, twice, and also has Dame Maggie Smith, I kind of couldn't help but do that.
Both Merlin and Downton Abbey were shows that had seasons that were uneven in quality — Merlin started out great and then steadily declined after the sixth episode, and Downton had some episodes that were so sloppily edited I couldn't tell that several years were supposed to have passed. Both are shows that I spend a good deal of time ogling just how pretty everyone is and exclaiming over the talent of all the actors involved, and both are really, really, really well-shot. And both had a lot riding on their finales. Downton had to prove to me it could still bring it (and by "it" I mean "something other than tears of anguish") and Merlin had to prove to me it remembered how not to suck. Downton brought it. Merlin, on the other hand, kind of made like it was going to bring it, and then chickened out in the last ten minutes.
After three years of being an adoring-if-exasperated fan of Merlin, I should probably know better than to expect things in terms of plot coherency or well thought-out writing, but I can't help but have faith in Merlin because sometimes it does. Remember the beginning of this season of Merlin? Awesome, right? It wasn't Downton quality, but it was pretty good. But this finale … well, in condescending parental speak, I'm not mad, show, I'm just disappointed in you. Not because it was a bad one, it's just that historically, your finales have been so much better than this.
So, Merlin, sit down, take out your pencils, and get ready to take notes, because Downton Abbey has three important things to teach you about how to properly send off a season in style.
DO: Have female characters who are awesome (and in charge)
If I had to choose one thing that Downton Abbey succeeds with better than almost any show I've ever seen, it's making female characters who are three-dimensional, flawed, sympathetic, and completely self-possessed, and pass the Bechdel Test with flying colors. This would be impressive enough (sadly) if it was a show set in modern day, but is even more remarkable considering that these women inhabit an extremely sexist, restrictive world. And the latest episode was so spectacularly female-positive I half-expected the background music to stop and suddenly all the Crawley women would start a song-and-dance number to Run the World (Girls).  Ladies kicking ass! Taking names! Expressing their opinions! Standing up for themselves! It was awesome!
Now to say Merlin has a lady problem is like saying the Great Wall of China is kinda large. I keep going back and forth on if I'm ever going to actually take time and write out all my frustrated feelings re: Merlin and its utter feminist failure, but I feel like other people have probably done that already, written it better than me, and, all appearances to the contrary, I don't actually enjoy going all angry feminist on people. But just to recap, let's just go through the extent of female involvement in the last episode of Merlin:
Gwen: Supports Arthur. Pines for Arthur while wearing blouse that makes me question if the costume department hates her because it is that terrible. Accepts Arthur breaking up with her with big, teary eyes. Pines passively some more. Finally goes to confront Arthur … about how she will love him no matter how much of a jackass he is to her. Attempts to fight Morgana with a sword (which I saw in the preview and was so looking forward to), but instead of being all awesome, she gets beaten fairly quickly and has to be saved by Merlin. After the battle, she's back to being a dogsbody until Arthur does an inexplicable emotional 180 and decides that he doesn't want her to leave and they should get married again. He does not say he loves her. He does not apologize. He just tells her and she's all, "Oh, of course I'll do exactly what you want!" Gets crowned queen! And looks gorgeous enough I conclude that maybe the costume department doesn't hate her after all, so that's a small mercy.
Morgana: Is evil. But instead of getting to be badass and evil, she quite literally is robbed of her power by Merlin (who's actually kind of a dick with everyone but Arthur lately, but Arthur's kind of a dick with everyone but Merlin, so I guess that works out). Is run out of the castle and gravely wounded in very slow motion. Maybe has her life saved by the baby dragon?! It's a very confusing ending. But her boobs look great.
Isolde: Finally, a kickass, competent female character who does what she wants and isn't defined by the guy she's with! Naturally, she does not survive the episode.
Sigh.
Photo Credit: BBC/ITV
This Post Contains Multiple Pages: 1
2