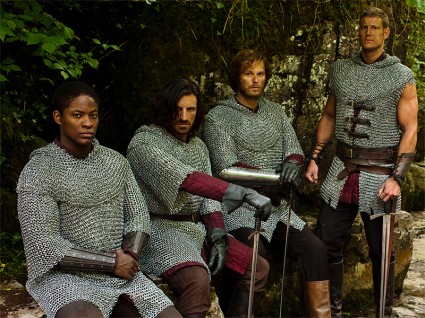 "Let us not go to Camelot," King Arthur famously said in Monty Python and the Holy Grail, "'tis a silly place." If this is just as true of the Camelot of Merlin, this is almost entirely due to the resident knights of the round table — Adetomiwa Edun (Elyan), Tom Hopper (Percival), Eoin Macken (Gwaine), and Rupert Young (Leon). The four of them were kind enough to host a "round table" (hyuck, hyuck, hyuck) phone interview and answer a few questions.
What do you most enjoy about your roles?
TH: I get to do quite a lot of physical stuff, which is a lot of fun … I get to do a lot of fighting and look cool with a sword, which is always a lot of fun.
AE: I'm right behind Tom when he says it's a lot of fun getting stuff in with the action. You've got a couple of good ones in this season.
EM: This is Eoin speaking, and I concur.
RY: This is Rupert speaking. What does "concur" mean?
Is there anything in the upcoming episodes that the fans should be looking for that you would like them to see?
TH: You should probably look to see how many hair flicks Eoin Macken does in an episode.
EM: I think you should try to spot the episode where Tom wears anything on his arms. That would be epic.
You mean besides young children.
EM: Wow, you said that, not me!
Did any of you actually watch Merlin before you got cast in Merlin?
EM: I did, because Merlin is a wonderful show and I'd heard about it so often.
AE: I actually did watch Merlin before … sorry, I've got Eoin Macken here making some extraordinary faces, it's quite distracting.
EM: I just want to know what episodes you watched before you were cast.
AE: I watched the whole of the first two seasons.
EM: What happened?
AE: You wanna bet?
EM: Do you wanna bet?
TH: Okay, episode one … [all laugh]
RY: When you audition for the show, you normally… I had a couple of days, so I tried to watch as many as I could. So I also watched — I've been seeing it even more …
TH: [imitating Rupert]"Because I'm in it."
RY: Because my mum makes me.
TH: We all now watch the show, because we're all narcissistic.
Speaking of auditions, I was wondering if you could each tell us about your initial audition for Merlin and getting started in your respective roles.
TH: Basically, I just did, when I had a go for Percival, I just sort of did a lot of research into the character, which actually came to not a lot of avail to what they actually decided to do with the character in the show, it's slightly different what slant they took on it. But yeah, basically the audition consists of — and I imagine this is the same for the other boys as well — is that you get your script for it and you read it through with the director, and if you're right for the part, then they'll give you the offer.
RY: When I first auditioned, I was up for two parts. One was the role of Sir Leon, which I play, and the other was another part, who actually dies, another knight. Luckily, they cast me as Sir Leon, otherwise I wouldn't be employed anymore.
AE: Well, then you'd be dead.
RY: And I was only meant to be in a couple of episodes, and then they kept writing me back. So I kind of developed the character with the writers, so that's been quite exciting.
EM: I just sent a video of being topless in a bed, alone, and that was my audition. It's true!
AE: I went in and met with the director of the block I was cast in, and yeah, I kicked down a door in the offices of Shine, who make the drama. It seemed to have the desired effect.
EM: I did consider a form letter, asking to be in the show, because I thought it was so good.
Can you tell me a little bit about some of the acting challenges you've found working on the show, and then maybe how have you seen your characters grow and develop as you've been playing them this season?
RY: I think as to the second part of your question is what's been lovely, or nice, has been the group of us working together is the writers have managed to get the kind of relationship we have off-screen into the characters. It's quite nice to get that group dynamic that the writers found and that we found off-screen, so that's really quite fun.
EM: I think the characters have regressed since the year began. I think they were really written very well and then we came in and ruined it. So they might save it with some really, really solid editing.
AE: [Laughing] Speaking for Tom and myself when I say that I think we can agree we beg to differ. I think one character has gone down the wrong path, and it's plain to see. But personally, one of the challenges I've found is shooting in Wales. I —
EM: Are afraid of Welsh people?
AE: — I love all that stuff out in the forest, but it can be quite cold. And I'm definitely, you know, solar powered.
EM: Yeah, sometimes it gets as low as about ten degrees Celsius, down there, so it's really difficult.
Was it tough with special effects, I know there was a lot, especially with the Doracha?
RY: I think what's quite interesting is when you're filming them, you don't actually know what you're trying to attack. Like, someone tells you, "Attack from all sides, right, look here, in this general direction, and hold the flame." And so you do it to nothing, so it's not until you actually watch the episode that you go, "Oh wow, that is actually quite scary."
EM: What I found about working with the Doracha is — when you're acting, acting is like reacting. You need to react off someone doing something to you, so it's hard to act off.
RY: It's like working with Eoin.
[Laughter]
Photo Credit: BBC
This Post Contains Multiple Pages: 1
2