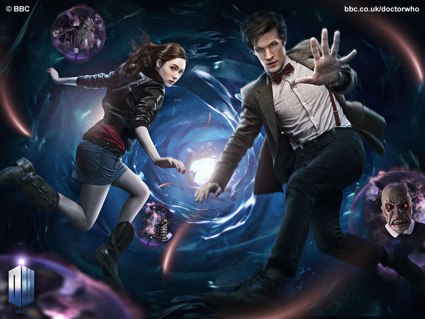 Sometimes, even with the embarrassment of riches that is American television (especially if you have cable), there's still a hole in your heart. And, for whatever reason, you turn to your sexy part-time lover, British television.
What is it that makes us turn to British TV? As someone who regularly cheats on American TV, I can't tell you. Maybe it's the sexy accents. Maybe it's the thrill of all the extra-legal maneuvering you have to take to see it before it's going to air six months later in the US, at which point no one will care and you'll be totally spoiled for it, anyway. Maybe it's just better. (I have a long and mostly nonsensical/unfounded argument on how and why British TV does drama better than American TV, but I'll spare everyone.)
For whatever reason, we all have a British show or five that we're hooked on. For the purposes of brevity in this poll, I only included currently-running shows (which counts out Torchwood and its weird "is it over or is it a hiatus?!" break) and shows that were not spin-offs of other shows (Sorry, Brittany, that discounts Law & Order: UK, even if it is a totally different show than its American cousin). I'm sure, though, that I've missed some, so let us know in the comments. What's that show from across the pond that does it for you more than anything else? We here at CliqueClack are dying to know.
Photo Credit: BBC