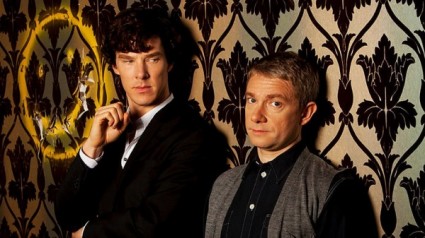 If you haven't been paying attention over the last month, Julia and I have been each other's emotional support as we went through another cruelly short series of BBC's Sherlock, the story of Sherlock Holmes set in the present day. Last series was good. Really good. As in "I don't know how they made a modern day Sherlock Holmes good, but this is so good" good. And I knew the second series would also be good, but I didn't know it would surpass every other show I watch to be (in my opinion) the best running show on TV. Even when the show isn't as good as it usually is (no, I didn't like the Irene Adler episode as much), it's still one of the best shows on television. And yet when I ask my fellow Americans if they've seen Sherlock yet, they think I'm talking about the movie … and that needs to change.
Why or how is it so good? Let me break it down for you.
Martin Freeman and Benedict Cumberbatch are fantastic
At the very heart of this show's magic are Freeman and Cumberbatch, John Watson and Sherlock Holmes respectively.  Both of these men are stellar actors in general, but both really nail their characters in this show. Martin Freeman's John is charming and seemingly normal, but with an underlining thirst for the excitement that being Sherlock's roommate/assistant/only friend brings. He's also a highly intelligent doctor that reminds me far more of the novels' Watson than his portrayals in the older films. And John is not afraid to call out Sherlock when he's being an ass, which is important because he is often a smug ass. Speaking of Sherlock, Benedict Cumberbatch — most English name ever, by the way — might be my favorite Holmes. Cumberbatch has an intense, insanely entertaining presence. I could watch him evaluate people all day. Together, these men are just a dynamite duo — you can see the immense chemistry between these two actors even in the first episode and they happen to be hilarious playing off one another. I've loved every scene of Cumberbatch and Freeman together, and it's going to be amazing to see them together as Smaug and Bilbo respectively in The Hobbit.
The modern setting works
If you would have told me a year and a half ago that there was going to be a Sherlock Holmes show set in the 21st century, I would have taken bets that it would bomb and hard. Even now I re-watch the first series and am just in awe at how effortlessly Sherlock and John fit into the modern world. Sherlock's use of technology makes sense in so many ways. For one, Holmes has always been a lover of experiments and technological innovations. For another, just the innovation of the smart phone allows Sherlock to quickly research and cross-reference information.
The 90 minute time-frame is inspired
This part seems self-explanatory, but because each episode has 90 minutes without commercials to tell each story, there is so much story to tell! The characters grow more in one 90 minutes episode than they would in two 45 minute episodes because there's no break in the action. It also allows for the mystery to unravel slowly, which is just much more fun than it being rushed. Probably the only downside to the show's length is that I'll find myself wanting to watch it before bed and forcing myself to not stay up late to finish it.
The side characters surprise you
This aspect of the show in particular has really taken off in the 2nd series compared to the 1st. We get to see Sherlock and Holmes have closer relationships with the normal people that engulf their lives, particularly Lestrade and Mrs. Hudson. Lestrade is played keenly by Rupert Graves as a man who understands the importance of Sherlock and who admires him in many ways, even if Sherlock gets on his nerves. Mrs. Hudson is a lovable flibbertigibbet. And there's also Molly, a forensic pathologist who has a long-seeded crush on Sherlock. Her scenes have almost always been played for cringes (mostly because Sherlock is so apathetic to her), but she has evolved in series 2.
Moriarty is on another level
Perfect is a strong word, but this version of Moriarty is as perfect a villain as you can have. He is a perfect foil for Cumberbatch's Sherlock as the very opposite side of the same genius coin — Sherlock is the sociopath, Moriarty is the psychopath. Even with the level of hamminess coming out of him, this Moriarty terrifies me. I can't say enough about the actor who plays him and if you don't know why that is, don't look it up; it will only ruin it for you when he is revealed. I'm not even going to tell you who plays him. If you don't know, don't look it up. Just watch the show.
The series two finale changes everything
I'm forcing myself to not tell spoilers because my intention is to encourage my fellow Americans to experience this show themselves. However, it must be said — the series 2 finale was a game changer. Stakes were high. Our heroes got hurt. Things weren't fair. I found myself intensely frustrated by the events of the episode and yet mystified by the cruelty of the villain. And throughout it all, I got to see just how tight the bond between Sherlock and John really is and you believe it because Cumberbatch and Freeman are incredible in these roles. Sherlock has developed these two amazing characters with a plethora of faults who have grown into better men through the course of just six episodes and nine total hours of storytelling. As Julia and I touched on in our original review of the episode, if Martin Freeman doesn't get all the awards ever for his performance in the last scene of the finale then it will be a damn shame. The man had me in tears.
You might have heard already that Sherlock has been renewed for a third series and Moffat knew about it when they commissioned Series 2, that sneaky bugger. This makes the absolute perfect time to immerse yourself with the show. The second series premieres in the States soon (PBS, so you non-cable viewers can easily enjoy it), but at least check out the first series on Netflix Instant. And if for some reason you're lucky enough to be in the UK and haven't seen the show … go. Now. Watch. Enjoy.
Photo Credit: BBC