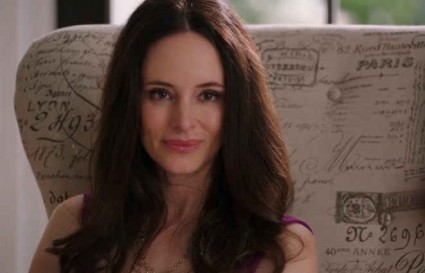 Yep, you read that right: Victoria Grayson, queen of The Hamptons on ABC's Revenge, the one caught up in the messy divorce, will have a new love interest toward the end of February. James Purefoy will be joining the cast to sweep Victoria off her feet. Far more interesting than the casting announcement (although Purefoy is clearly the perfect charmer to match wits with Victoria), is how Victoria having a love interest could effect the storylines on Revenge.
Victoria's an interesting character, and Conrad has hinted that she wasn't always the belle of the ball, giving me the impression that her roots are less than Hampton royalty. But she's a tough cookie; just when I want to feel sympathy for her (and I do think she truly loves her children), she does something so deplorable that I hate her again. During the last episode, "Commitment," I was disgusted at the way Conrad rejected Charlotte and used her as a bargaining tool in the divorce. I've been sympathizing with Victoria, imagining how hard it must have been to frame David and keep her mouth shut all these years. Then, she leads Daniel into thinking that David raped her … unacceptable! I'm not sure if I want to see Victoria find happiness or if I want her screwed over tenfold!
So, will Purefoy play a love interest to confuse and befuddle queen Victoria, appealing to her softer side and catching her off-guard? I'd like to see him be working for Emily, since Victoria has now fired the lawyer who believes in David's innocence and was helping Emily. You know Emily's capable of something that devious, and that would make for a compelling twist. Then, maybe Purefoy's character would actually start to fall for Victoria … oh, the tangled web! But I am getting ahead of myself!
I can actually see Emily and Victoria coming to some understanding and working together to bring the truth to light. Maybe the love of a new man is the perfect catalyst for the story to twist this way. …
What do you think? How would you like to see Purefoy's character effect the storylines on Revenge?
Photo Credit: ABC