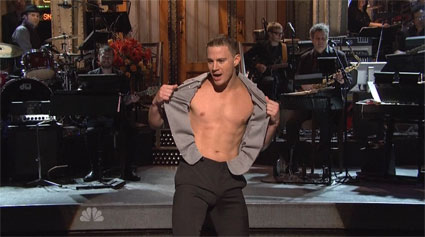 SNL is back after a couple weeks off with host Channing Tatum (how many movies does this guy have coming out?), and musical guest Bon Iver. It was a pretty good outing that gave Channing plenty of opportunities to show off the skills he learned in his former career.  I thought he did a good job and was a good sport considering almost every sketch required him to dance and/or strip.  And did anyone notice Paul Brittain was missing from the opening credits? Yep, he left the show, reportedly amicably, to persue other career options.  I'm going to miss that Lord Wyndemere. Here's a rundown of tonight's sketches.  Be sure to come back for the clips as they become available, and take the favorite sketch poll below.
Cold Open: Newt Gingrich, Moon President — Gingrich, Cain and Romney fulfilling Gingrich's lunar dream hit all the expected notes, but I liked the robot asking if Romney was his father and Wiig's very intense Calista. Funny, if predictable.
Monologue: Channing Tatum — The only reason he's hosting is to put himself through nursing school. Funny monologue as Channing recounts his stripper past. And almost puts out some eyes with flying buttons.
It's Getting Freaky with Cee Lo Green! — Channing as Matthew McConaughey doing some naked bongo playing. The only problem is that this sketch never goes anywhere.  Makes me really miss "What Up With That?"
Downton Abbey on Spike — aka Fancy Entourage. Very funny look at how Spike TV — the network for men — would promote Downton Abbey. Loved the simplistic reduction of the show's characters and situations.  But poor Maggie Smith … the lady that looks like a chicken. Probably my favorite part of the night.
NFL on NBC Promo Shoot — A pretty funny look at what goes on during those promo shoots with a terrific punchline. Great facial expressions for each take as someone manages to say something weird or inappropriate.
Secret Word – Mindy Elise Grayson returns with Tatum as an astronaut having flashbacks from his solo space flight. Turns out it wasn't so solitary when the word "probe" comes up. I know people are tired of this sketch, but I love how Wiig can always come up with some new, absurd way to not play the game and the crazy titles of Mindy's spectacular Broadway failures.
Musical Guest: Bon Iver – Okay, I don't get this band at all. Couldn't understand a word of the first song, and why does the lead singer have to have his mouth right on the microphone? Is the music purposely loud so you can't hear the guy sing? I skipped past the second number.
Weekend Update – Guy Fieri (Bobby Moynihan) has Super Bowl snack tips, Lana Del Rey (Kristin Wiig) addresses the backlash to her SNL performance, which was pretty spot-on and really funny. Might have been even funnier had Del Rey actually come back to do it herself.
Rebecca's Bat Mitzvah – What happens when too many people choreograph an innocent dance? Channing gets to dance again … fully clothed this time. Great reaction shots from the various party guests.
Tom Brady at Ruby Tuesday – Bobby Moynihan as a middle-aged woman putting the moves on Tom Brady the night before the Super Bowl was unsettling, but the sketch was capped off by a spectacular fall by Moynihan that made me gasp.
Go-Techs Flex – Hilarious commercial for a ridiculously complicated and useless exercise machine. If you watch closely, it looks like Tatum and Wiig are cracking up throughout the pre-taped sketch.
Bongo's Clown Room Ladies Nite – Emotionless Asian women, a collection of out of shape (except for one) male strippers, and Jason Sudeikis' dialogue make for another funny outing at Bongo's. Funniest parts: the little person riding Taran Killam and falling off (which was cut away from in an instant) and Sudeikis' line about the Sandusky trial that was so off-putting that no one laughed … and the look on Sudeikis' face when he realized he had crossed a line.
Photo Credit: NBC